'When We Were Young Festival' Succeeds Against All Odds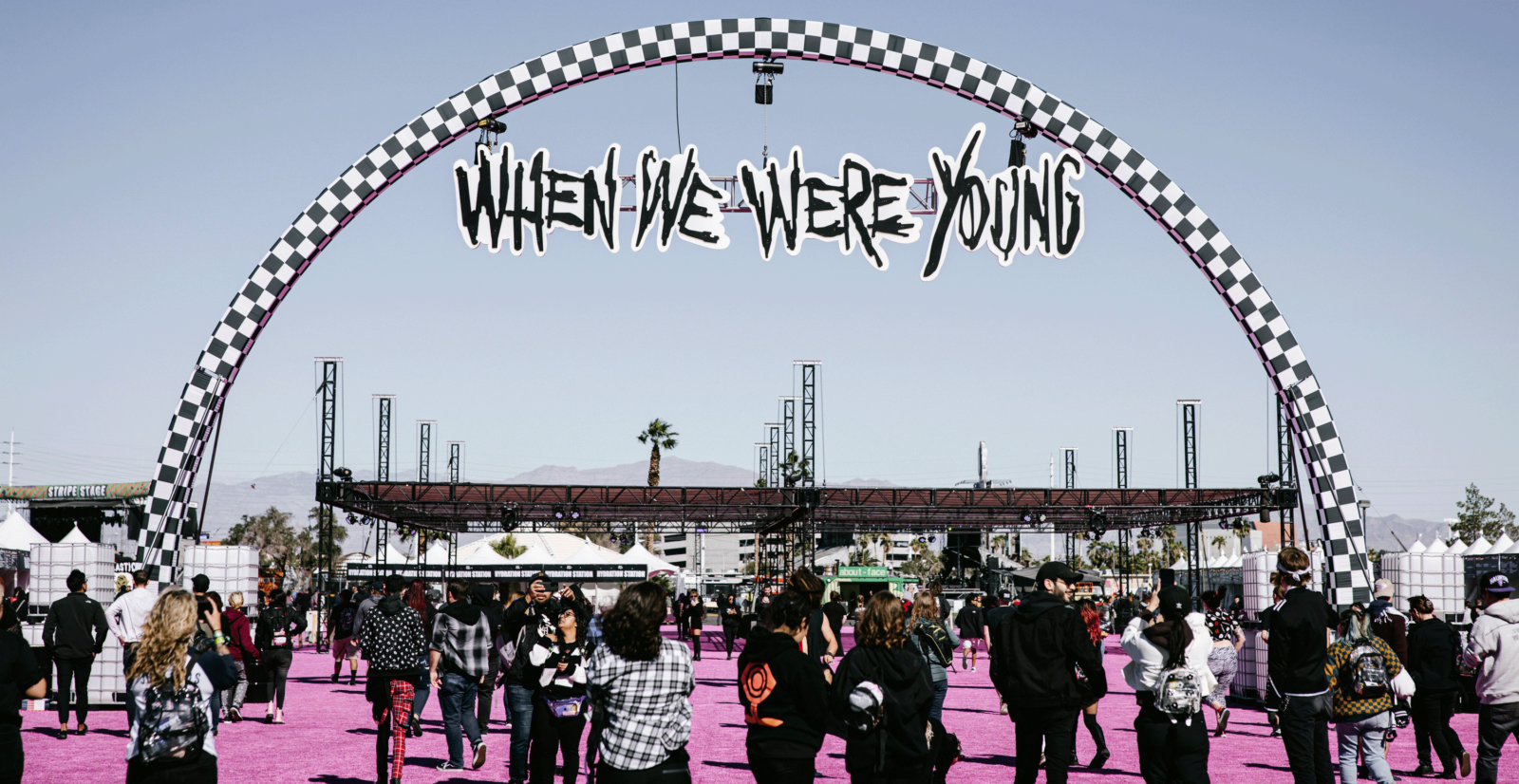 Back in January, music fans were sent into a frenzy by the unexpected announcement of the When We Were Young Festival: a brand new music event that boasted headlining bands like My Chemical Romance, Paramore, Mayday Parade, The All-American Rejects, and more. Dozens of bands performing together on the Las Vegas Festival grounds.
The organizers didn't even need a marketing strategy. All they had to do was create a basic website, a Twitter account, and post one tweet with the festival poster. The rest was word-of-mouth as Elder Emos, Punk-Rock Professionals, and Musical Millennials went absolutely wild. (Did we miss any pithy generational titles?)
There was no way this could be true. Was this actually happening? It had already been a pretty incredible year for nostalgic alternative fans. Should they bite the bullet and buy tickets, just in case?
The internet was split; either this would be the event of a lifetime or a disaster to rival Woodstock '99. Only time would tell.
Over the next few months, the event started to look a little more legitimate. The website became more detailed with more shows and ticket information. There's even a list of sponsors at the bottom citing partnerships with Verizon, Netflix, and Hot Topic. Even then, it felt a little too good to be true.
Part I: Siri, Play "Told You So" by Paramore.
On Saturday, October 22, crowds of fans poured into Las Vegas ready to rock out; they were met with high winds and closed doors. Then, a whopping forty-five minutes before the festival was set to open, the announcement was made that day one of When We Were Young was being cancelled. The organization published an apology on their site.
When We Were Young Festival Organizers have spent the last several days proactively preparing the festival grounds for a windy Saturday. The National Weather Service has now upgraded their Saturday forecast to a High Wind Warning, including dangerous 30-40 mph sustained winds with potential 60 mph gusts. Under the advisement of the National Weather Service and the Las Vegas Metropolitan Police Department, we have no other choice than to cancel today's When We Were Young Festival. The safety of our fans, artists and staff will always be our top priority.

When We Were Young Festival Staff
The statement went on to explain how ticket-holders could receive their refund for that day. More importantly, they clarified that the event was not being cancelled, merely that day's performances.
Maybe it's the pessimism of punk rock, but most people took that as a bad sign. Twitter and TikTok were flooded with jokes and memes. Doubters seemed sure that the weather warning was a cover for bigger problems—lack of resources, under-preparation, or the fact that the bands they promised simply weren't there. Regardless of the truth, hundreds of fans trudged home or started making alternate plans for their trip.
Part II: Siri, Play "Boulevard of Broken Dreams" by Green Day
Disappointment aside, it was certainly…interesting to see the Las Vegas Strip overrun with punk rock fans that had nowhere to go. Thankfully, Vegas always has something to do.
Some people found themselves at other concerts of a different genre. Katy Perry performing one of the last shows of her Las Vegas residency, Play, which was successful enough to be extended. She made sure she took the time to make the newcomers feel welcome and relate to them.
I know you think I'm all refined and stuff, but let me remind you that in 2008, I was on the Warped Tour. I stood in line for catering. I stood in line in my flip-flops for shared showers. And I may have my own shower now, but don't throw me in a pit, because I can go… So please, everyone, welcome the emo kids tonight.

Katy Perry, TikTok by concertcam
And the celebrity love didn't stop there. Festival attendees were stranded in Las Vegas, but so were the bands who were meant to be performing. Some of them, like Bring Me The Horizon, organized last-minute pop-up shows so they could still have the chance to play for their fans. That's a pretty punk-rock reaction to a bad situation.
Part III: Siri, Play "In the End" by Linkin Park
On Sunday, everyone was holding their breath—hoping for the best, prepared for the worst. But despite chilly weather and a rocky start, the When We Were Young Festival opened its doors at 11AM. Thankfully, everything seemed to run as planned.
Now social media is full of people's selfies and concert videos, clips from the sets of Avril Lavigne, Red Jumpsuit Apparatus, 3oh3!, and more. And, yes, Paramore and My Chemical Romance were both there to rock the festival grounds. After nine long months of praying and worrying, the When We Were Young Festival was able to prove they were ready and prepared to show fans a good time.
So what does the future hold? When We Were Young has one more show slated for October 29th, which is likely to be the best almost-Halloween concert known to mankind. And we can look forward to another When We Were Young Festival in 2023! At least, you can look forward to it if you've already got your tickets. For now, it looks like the whole event is already sold out.
You can read more about the When We Were Young Festival on their official site and official Twitter. Until more tickets open up, the rest of us will just have to Carry On.
–
Brittney Wittmer considers herself a Professional Fangirl™. She is both an author and an editor for The Fan Room, focusing on fandom, film, television, and horror. Her greatest achievement to date is binge-watching fourteen seasons of CW's Supernatural in 40 days to prepare for the final season.