Guillermo del Toro's Cabinet of Curiosities: A Review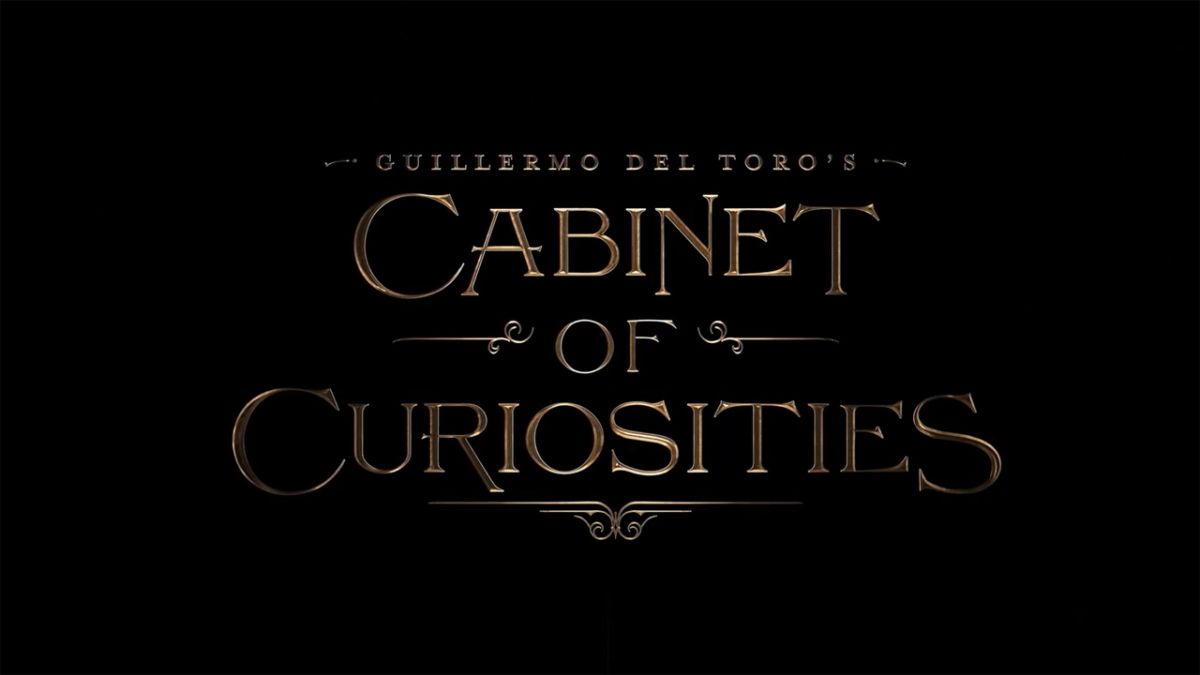 This week we were treated to a new series on Netflix titled Guillermo del Toro's Cabinet of Curiosities. It's a horror anthology series, similar to the wildly popular Creepshow. Season 1 contains 8 episodes, all directed by different directors and featuring relatively well known cast members. The episodes do not directly tie into one another, but one common theme is that none of them take place in today's world. We're going to look at each of the individual episodes with information and an "out of 10" rating for each! There will be slight spoilers ahead, but we'll leave the good stuff out so you can check it out for yourself.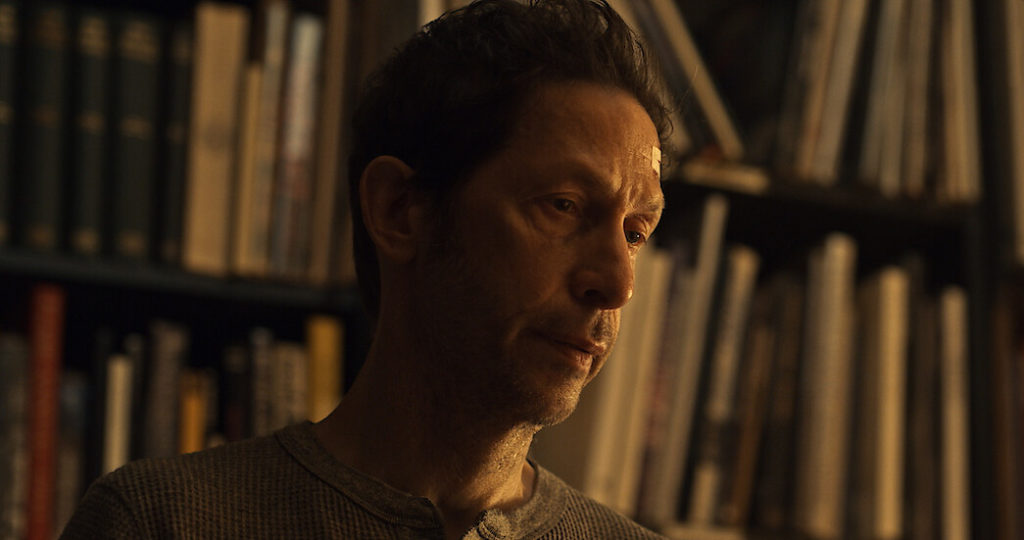 Episode 1: "Lot 36"
"Lot 36" takes place during the onset of Desert Storm and follows Nick, played by Tim Blake Nelson, a Vietnam veteran that has found himself in severe debt to loan sharks. He tries to make money through buying storage units in auctions. Nick is a racist and xenophobe, which comes into play through his interactions with Emilia, played by Elpidia Carrillo. He purchased her storage unit which was forfeit due to miscommunication, and after she just wants the sentimental things, he becomes aggressive and hateful to her. In a separate locker that he purchases he discovers some old occult relics that cause things to turn sideways.
This episode was a wild ride into demonology and the consequences of having an evil heart. The story was dark and unsettling and the pacing was really well done.
Rating: 7.5/10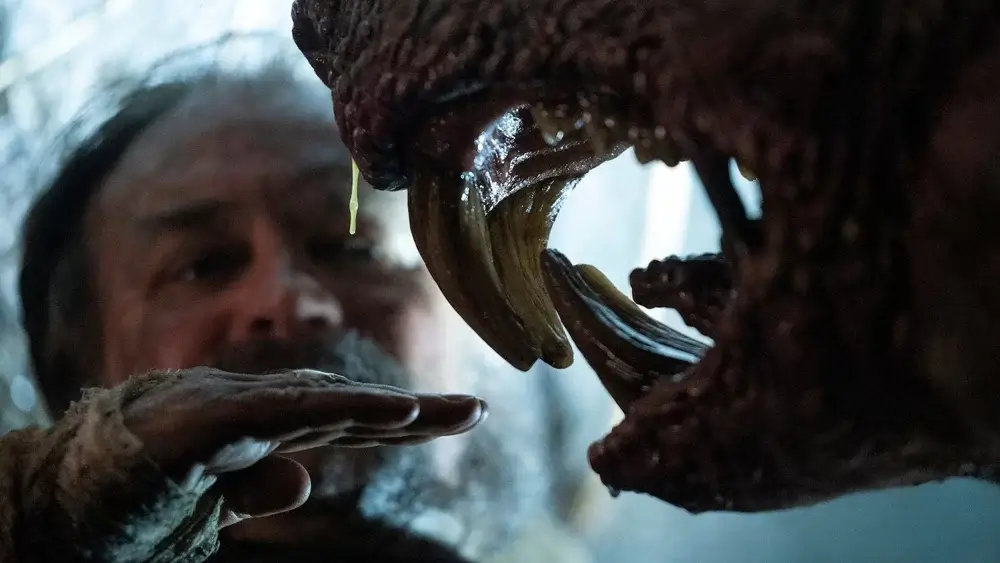 Episode 2: "Graveyard Rats"
"Graveyard Rats" follows a graveyard caretaker named Masson, played by David Hewlett. However, similar to the "Lot 36," he is in an unfortunate amount of debt and has taken to robbing the graves he's in charge of watching. He consistently comes up short on his attempts due to rats stealing bodies. Trust me, it will all make sense when you watch it. When he finally has a very wealthy "client" to take from, he goes in for the haul of a lifetime. However, the rats were already in the process of taking the body into their tunnels. What's a desperate man to do but go in after it?
The style of "Graveyard Rats" was very interesting. The setting was in early America in Salem, MA. They nailed the look and feel of the time. The pacing was a bit quicker in this one, but I feel it played into its favor. This one was more of a fun horror story than a serious one, unless you're claustrophobic.
Rating: 7/10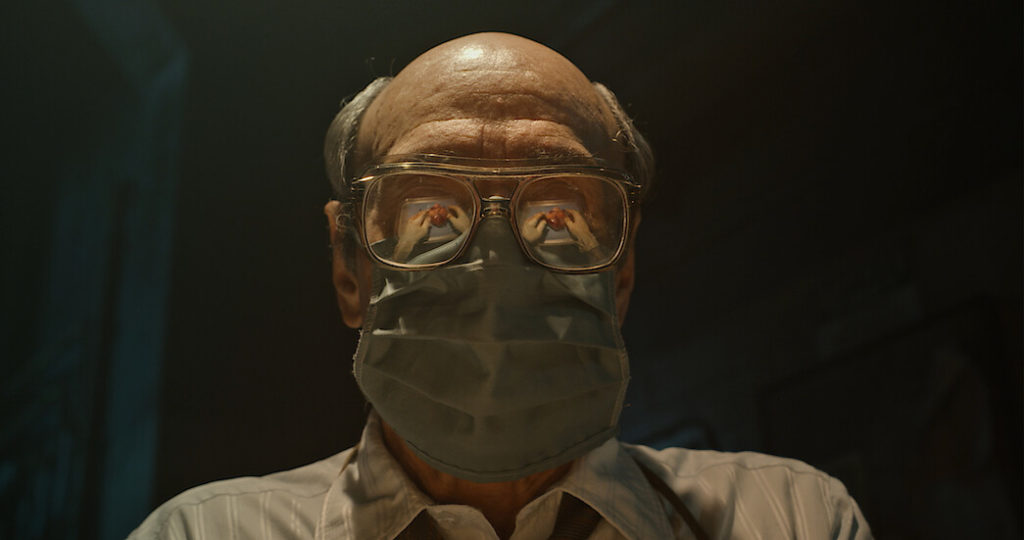 Episode 3: "The Autopsy"
"The Autopsy" follows a coroner with stomach cancer named Carl, played by F. Murray Abraham and his friend, Sheriff Nate Craven, played by Glynn Turman. A tragedy befalls a mine as an explosion costs the lives of several men. During the autopsy, things begin to take an eerie turn. We find some interesting details about the man that caused the tragedy and those that were near his body.
This episode had such a dark setting and slow burn pacing that it was impressive that it never became boring. F. Murray Abraham really did shine in this episode. His voice is like silk and his abilities in horror movies are phenomenal. The big ending really tied everything together in such a jaw dropping way.
Rating: 8/10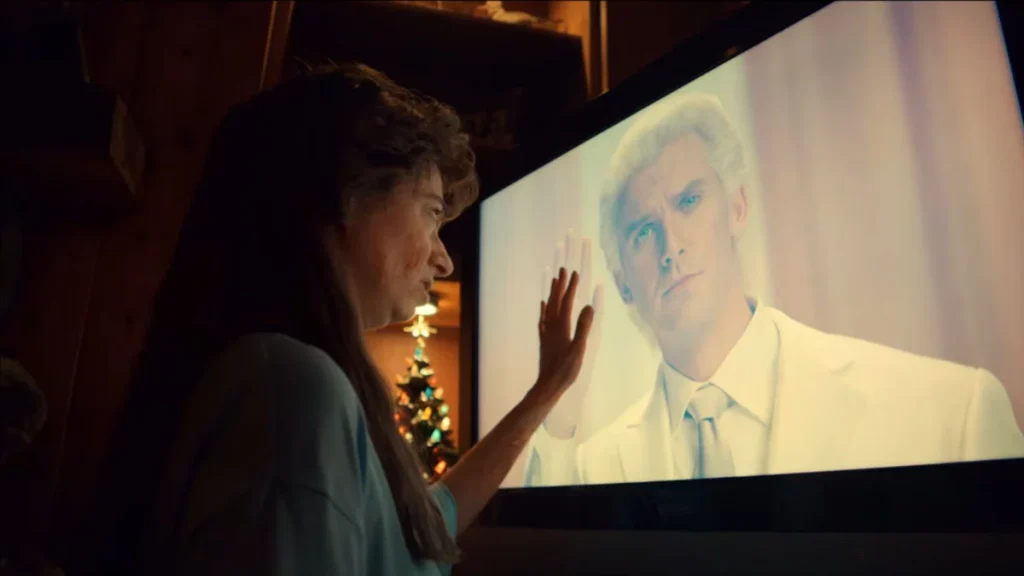 Episode 4: "The Outside"
"The Outside" is stylistically similar to a Creepshow episode. There's something in the filming style and setting that gives off that vibe, but I can't quite place what. The story follows Stacey, played by Kate Micucci, who works at a bank and is not the most attractive person. She has dirty teeth, a crossed eye, and a very strange hair style. She works with several women that married into money and like to gossip. She gets invited to a Christmas Party with Secret Santa. Ultimately she ends up receiving some skin care products as a gift that she has, what appears to be an allergic reaction to. As the episode goes on, she becomes obsessed with becoming beautiful. This causes a series of unfortunate events that I won't spoil here, but it becomes obvious what the deeper meaning is.
Episode 4 was still good, it just wasn't my favorite. The underlying message of "how far will we go to be loved and accepted by the popular people" is not subtle, but it doesn't have to be. When we become obsessed over being in the popular circles we lose touch with who we are, and "The Outside" drives that point home.
Rating: 6.5/10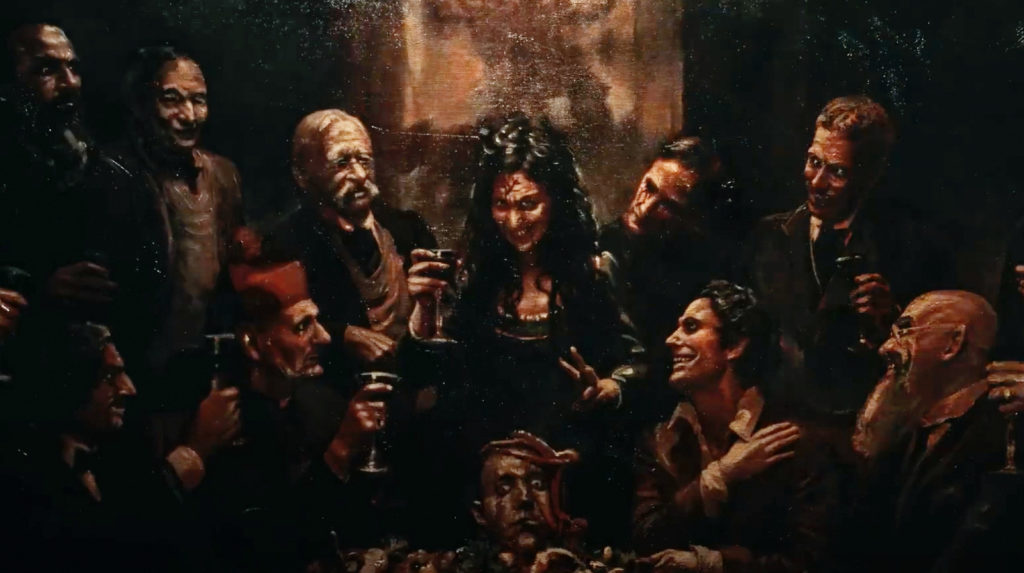 Episode 5: "Pickman's Model"
"Pickman's Model" is actually based on a short story from H.P. Lovecraft of the same name. In true Lovecraft style this entire story revolves around Outer Gods and insanity. It follows William Thurber, played by Ben Barnes, and his journey to express himself through painting. In one of his classes he meets Richard Pickman, played by Crispin Glover, and notices his paintings have very morbid and warped aspects to them. Thurber meets up with Pickman after the class where he begins to learn his philosophy on "paint what you see." We begin to learn about Pickman's connection to the Salem Witch Trials. We also learn how and why his paintings have maddening effects on those who see them.
This one is hands down my favorite of the entire series. It nails the Lovecraftian vibe, and both the cinematography and sound design are impeccable. Crispin Glover knocked it out of the park, as he typically does with odd and scary characters. Phenomenally done!
Rating: 9/10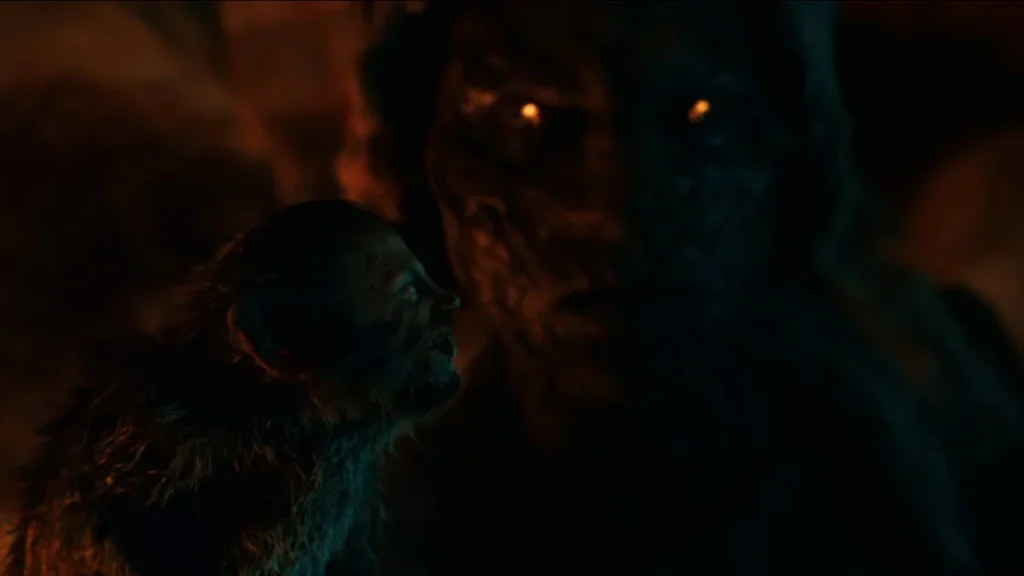 Episode 6: "Dreams in the Witch House"
Keeping in line with the previous episode, "Dreams in the Witch House" is based on another one of Lovecraft's stories. We open with a set of twins: Epperly is terminally ill and Walter is asleep at the piano he was undoubtedly playing for her. Walter wakes to her panicking as Epperly claims she "sees the ghosts." When she passes on, her spirit is taken into a portal to the afterlife. Walter witnesses the whole ordeal. We flash forward to Walter as an adult, played by Rupert Grint, sitting at a seance. The story becomes one similar to Pet Sematary, focusing on the lengths the human spirit will go to attempt to bring back a dead loved one. Walter has spent years trying to find a medium to speak with his lost sister.
This story evolves in a way only a Lovecraftian story can. It goes from a man trying to communicate with a lost loved one to magic, occultism, and drug use. It's a story I feel was really well done given its hour run-time, but I feel it really could have benefited from being a full length film.
Rating: 8/10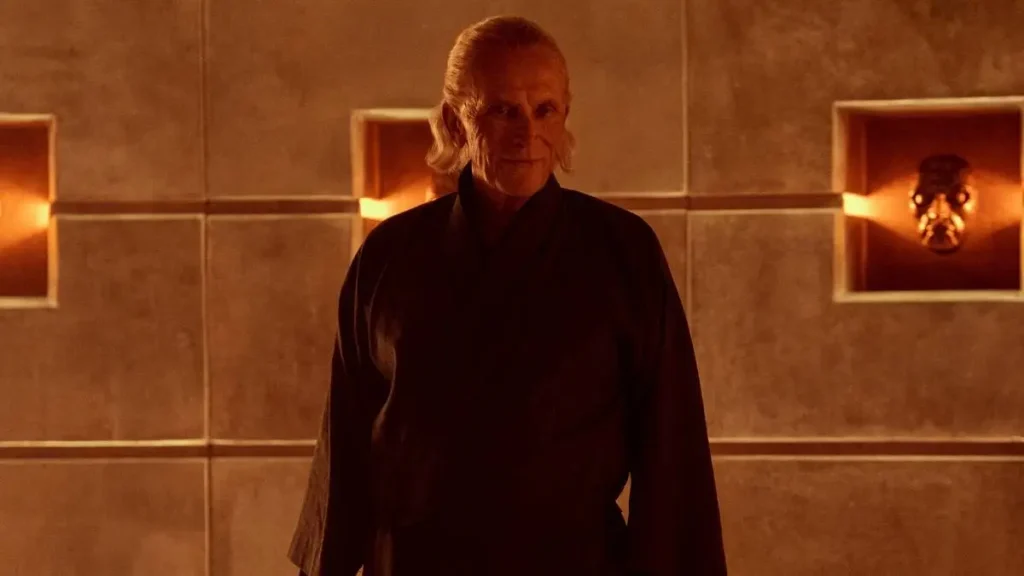 Episode 7: "The Viewing"
"The Viewing" is a psychedelic trip into the perverse desires of the rich. The story follows a scientist, an author, a music producer, and a psychic as they are invited to a viewing with an eccentric wealthy individual and his doctor. The visit starts as a simple conversation at the wealthy man's residence. Things begin to take a turn as they partake in alcohol, then marijuana, then "space cocaine." Without spoiling the details, there is a very odd reason they were asked to be there and it only gets weirder and weirder.
This episode was a bit of a slow burn with a massive payoff. It takes place in 1979 and the music is very heavy in the synth department. This is also another one I feel would have benefited heavily from a longer runtime. The idea of the price people would pay for a once in a lifetime experience is the key component to the story, and it absolutely delivers.
Rating: 8.5/10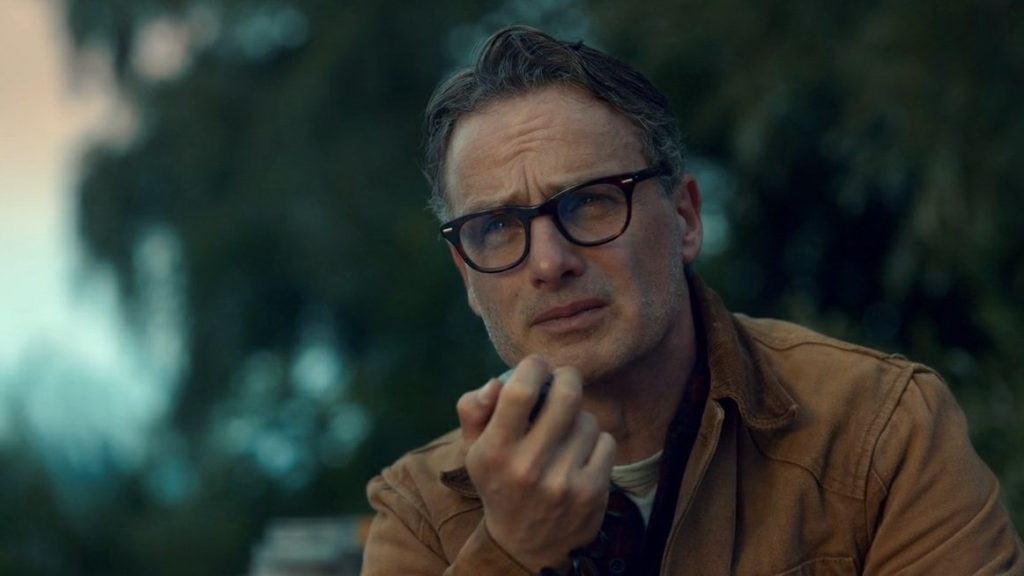 Episode 8: "The Murmuring"
"The Murmuring" is hands down the most emotional and character driven story of the entire series. It follows Nancy and Edgar, played by Essie Davis and Andrew Lincoln respectively. The couple are ornithologists studying the habits of local birds on an empty island with an abandoned house. The house ultimately turns out to be haunted, which plays a role in the recovery of Nancy's ability to feel emotions due to the trauma of losing a child. This story is one of loss and the difficulty of moving forward from tragedy.
Essie Davis and Andrew Lincoln deliver powerhouse emotional performances in this episode. The use of warm lighting coupled with the style of both the clothing and house really make you feel immersed in the 1950's. While having horror elements, this story was a deep emotional piece that had me on the verge of tears.
Rating: 8.5/10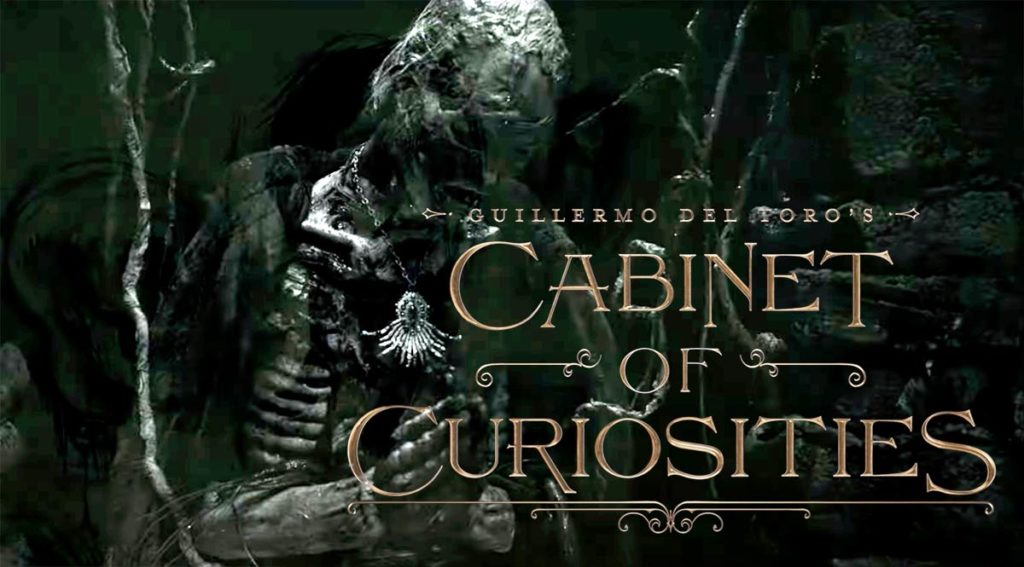 All in all, Cabinet of Curiosities is an amazing and refreshing attempt at the horror anthology genre, and I would absolutely recommend it to any fan of horror as there is at least one episode for everyone. All eight episodes are currently available on Netflix.
–
Steven Gates is an avid gamer and horror fanatic. His contributions to the fan room include gaming, sci-fi, and good wholesome family fun! Steven has also done voice work having a role in a few commercials and a cameo in the horror game, Happy's Humble Burger Farm! He also spends way too much time binge watching on Shudder…