Power Trip: The Festival of a Lifetime

Metalheads, rock stars, and festival goers rejoice! Tickets are now on sale for what's sure to be one of the most legendary music festivals of the decade. October 2023, some of the biggest bands in metal and classic rock are coming together for a killer performance on the edge of the Mojave Desert and, while it might seem too good to be true, we promise this is no mirage.
With music acts that range from the '70s to the '90s, the lineup for The Power Trip Festival is something off a rock fan's bucket list. Friday night you can catch Guns N' Roses and Iron Maiden; on Saturday, AC/DC followed by Ozzy Osbourne; then to wrap it all up on Sunday, Metallica and TOOL. All household names, most with more than 100 million global record sales.
Still, you can probably pick out the more "mainstream" acts—at least, by modern standards. Guns N' Roses, AC/DC, and Metallica all boast around 25 million monthly Spotify listeners. Ozzy and Iron Maiden both have about 8 million (which I take as a deeply personal offense), while TOOL sits at about 3.5 million. Frankly, a surprising number since their record Fear Inoculum is still bringing in top album sales years after its initial release.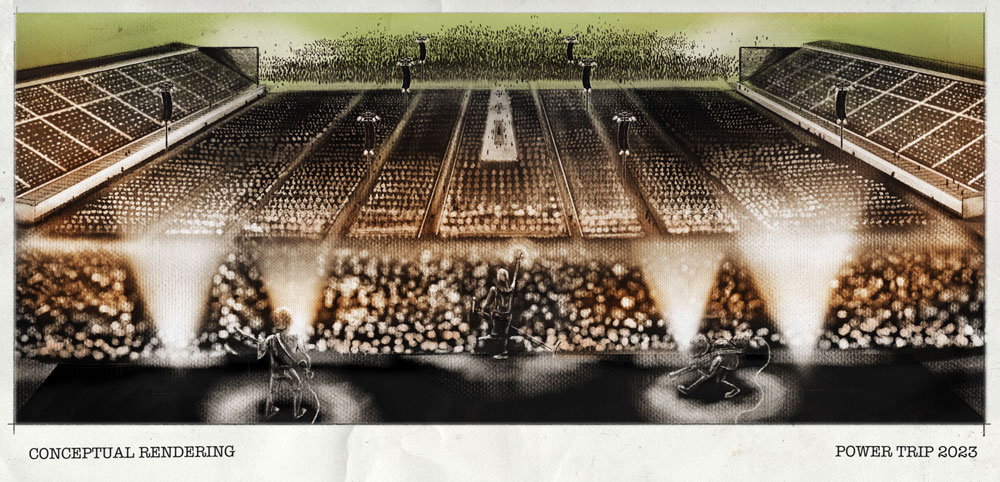 "How much must an experience like this cost?!" you may be worrying, but please—Don't Cry. While the prices are a considerable chunk of change, its actually pretty affordable, all things considered. (In this case, "all things considered" translates to, "one ticket for three days and six bands costs slightly more than the one ticket to Iron Maiden's concert last October that I couldn't afford. And am not at all bitter about.)
If you're just looking to go and enjoy the music, General Admission tickets start at $599 plus fees and Reserved Floor Seats at $799. If you're a thrill-seeker looking to be in the pit when Metallica starts playing "Master of Puppets," you're looking at $1,599—at which point you should probably just upgrade to a VIP package, since it's only an additional $150. The official Power Trip Festival website also has information on hotel packages and camping options on festival grounds.
But new festivals always come with a risk. We've written before about the disaster that was Woodstock '99; we've also written about the surprising success of the When We Were Young Festival. In this day and age, it's impossible to know how an event like this will pan out. Hopefully, with such high-profile and long-lasting bands on the roster, we can keep our hopes high.
The Power Trip Festival will be October 6-8th at the Empire Polo Club in Indio, California. Tickets, VIP packages, and add-ons are now on sale. For those about to rock, we salute you!