Top 5 Speeches from the 2022 Emmy Awards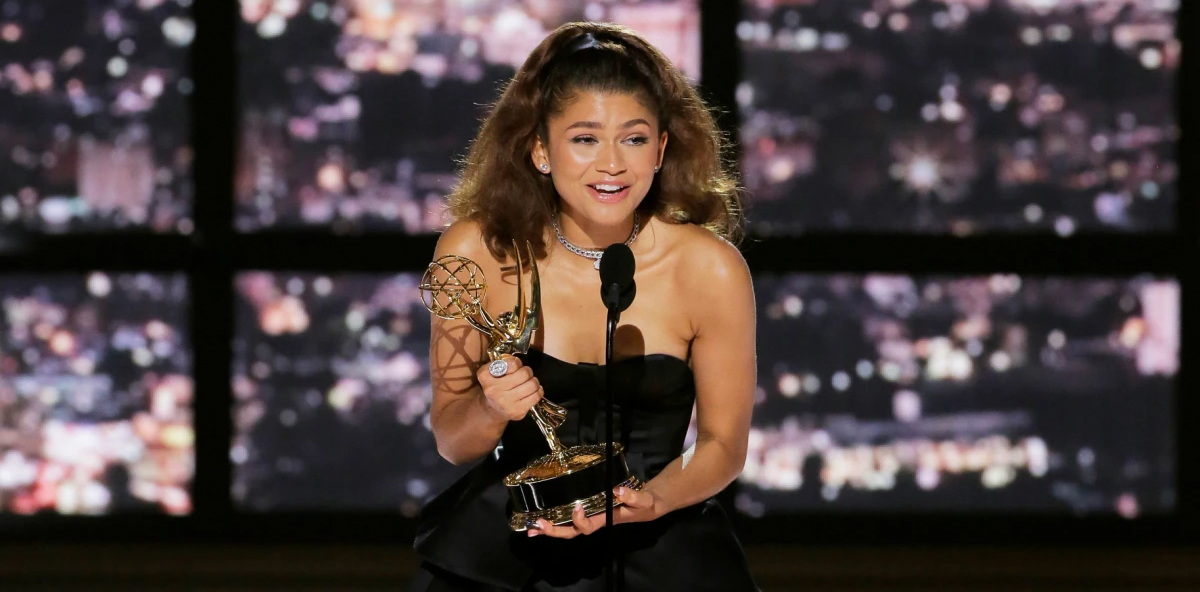 The 2022 Emmy Awards aired this past Monday with some groundbreaking award winners and hilarious moments. Lee Jung-jae won the Emmy for Outstanding Lead Actor in a Drama Series for his role on Netflix's Squid Game. He is the first Asian actor to win the award, and this is also the first time the award has gone to a role from a non-English show.
On the other end of the spectrum, Last Week Tonight with John Oliver took home the Emmy for Outstanding Variety Talk Series for the seventh consecutive year (exactly as we predicted last week.) As a result, Jimmy Kimmel played dead during his turn to present an award, his limp body dragged unwillingly on stage by Will Arnett.
But besides all the performances from the hosts and nominees, the 2022 Emmy Awards also had quite a few acceptance speeches that could've won an award, too. Here are our five favorite speeches from the 74th Primetime Emmy Awards.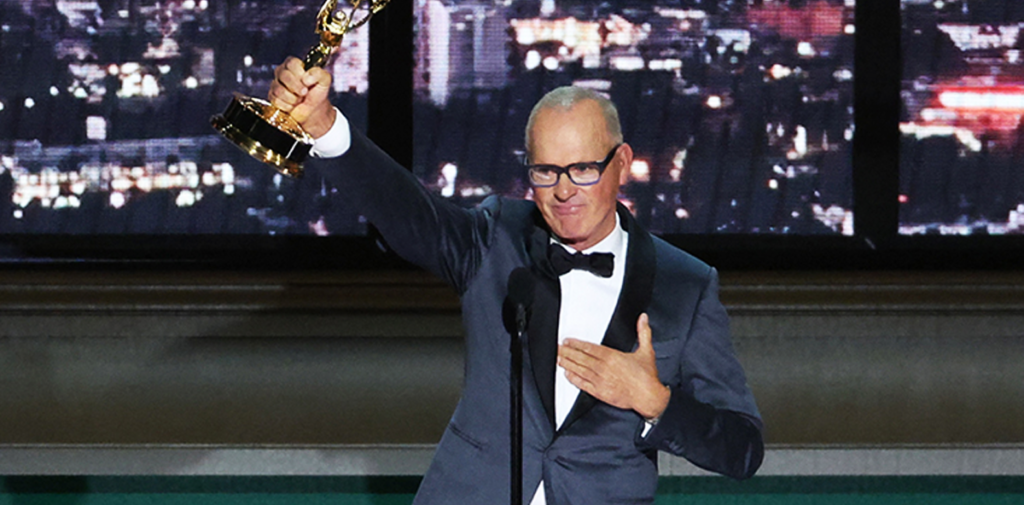 Michael Keaton
Outstanding Lead Actor in a Limited or Anthology Series or Movie – Dopesick
The night started out strong with the first award going to none other than The Batman himself: Michael Keaton. In his speech, Keaton reminisced about getting hooked on television at a young age—back when the TV set was tiny and everything was in black and white. He was sucked into the world of entertainment, always reenacting scenes from his favorites movies and shows or putting on performances for his friends and family. Keaton thanked his family for always going along with it it, never making him feel like his play acting was silly or something to poke fun at. Because of their support, he went on to make a whole lot of movies and money from that play acting.
Times have changed since the rise of the Internet and social media, but there's still a certain stigma around being "one of those theater kids." So, if you're over the top and constantly quoting your favorite movies, to the ire of all your friends, know that you're just like Batman. That's a pretty cool thing to be.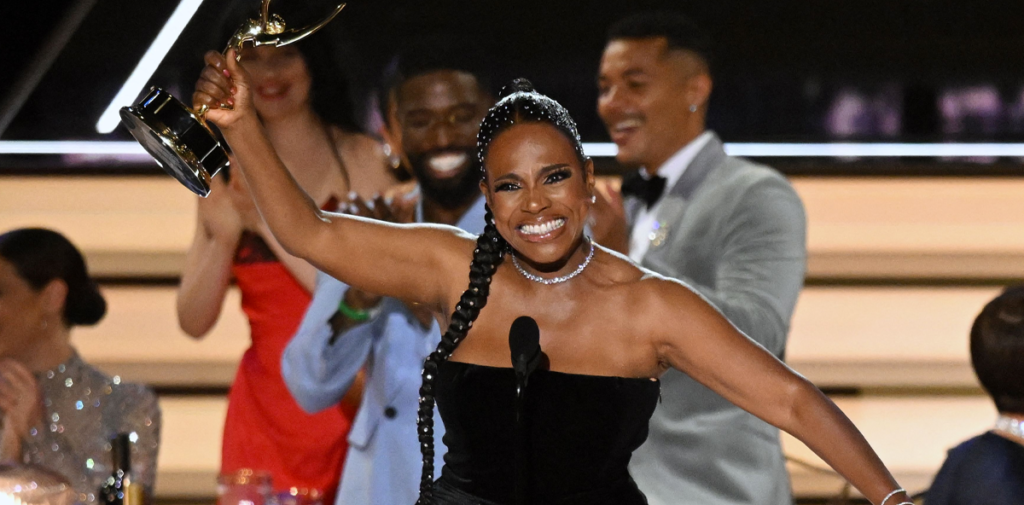 Sheryl Lee Ralph
Outstanding Supporting Actress in a Comedy Series – Abbott Elementary
Most acceptance speeches start the same way: "Oh my God, thank you so much! I really didn't think I was gonna win this." The winner thanks their family, the Academy, the cast, crew, and network of their show. Honestly, most times you can tune it out and not miss much.
Not so for Sheryl Lee Ralph. She got up on stage to cherish her moment and she did not waste a single second of it. Instead of rambling thanks, she brought the whole show to a stop with her amazing singing voice.
I am an endangered species
But I sing no victim's song
I am a woman, I am an artist
And I know where my voice belongs

"Endangered Species" by Dianne Reeves
She went on to talk about how important it is to surround yourself with people who support you. Her friends, her husband, her kids—all helped her achieve her dream to get up on that stage. It was a rousing speech that brought the house down. They really should have given her a second award on the spot.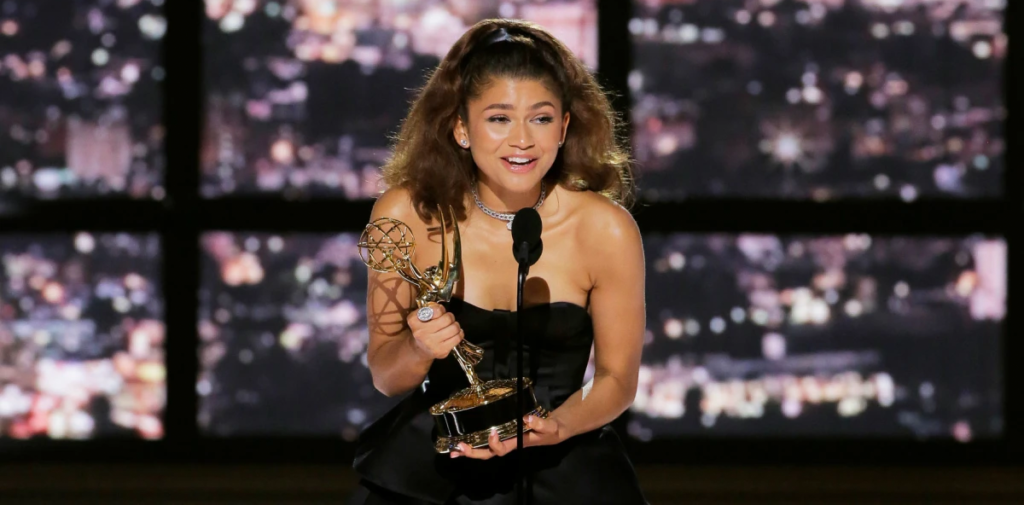 Zendaya
Outstanding Lead Actress in a Drama Series – Euphoria
It seemed like a lot of the presenters and nominees were more excited to be near Zendaya than to get an actual award. She received a lot of attention in jokes and speeches and, of course, took home an Emmy for her portrayal of Rue Bennett in Euphoria.
Rue's character give Zendaya plenty to work with when she's acting. The show follows her struggles with drug addiction, mental illness, identity issues, and coming of age in an extremely complicated social landscape. One of the reasons Euphoria has been so successful is its broad range of characters dealing with a broad range of problems. Many fans talk about how they either know someone just like Rue, or have struggled with the very same problems.
Zendaya used her speech to reach out to those people facing the same obstacles as her character. She thanked them for sharing their stories, and promised to carry them with her and with Rue. In a time where diversity and representation is more important than ever in media, it was a great way to help the show's audience feel seen.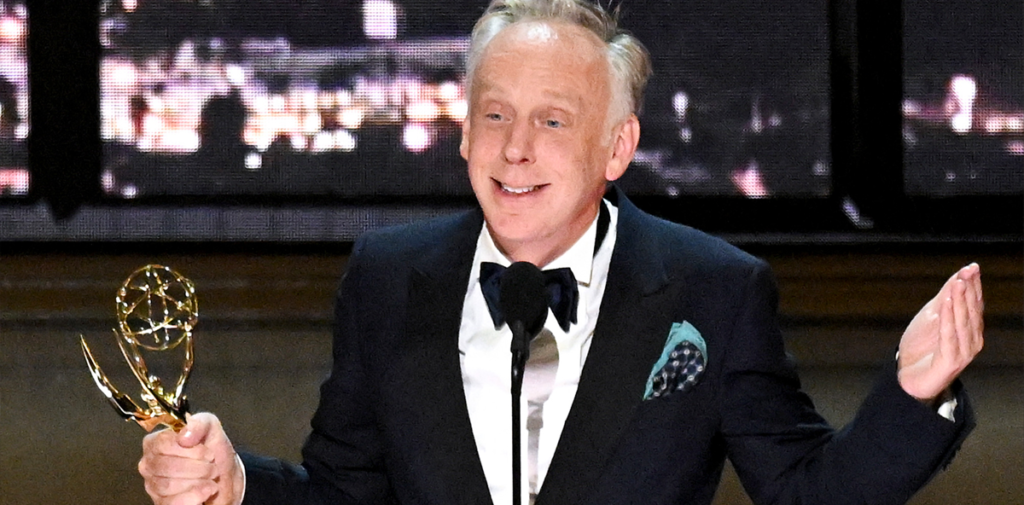 Mike White
Outstanding Writing AND Outstanding Directing of a Limited or Anthology Series or Movie – The White Lotus
Mike White gave a few different speeches over the course of the night. He won awards for both writing and directing The White Lotus, which also took home the Emmy for Outstanding Limited or Anthology Series or Movie. Some parts of Mike's speeches were heartfelt, some were funny, but one stuck out even more than the others.
In Mike's second speech, he talked about how he felt like he was on the show Survivor. The best strategy is to downplay yourself and make sure you don't appear as a threat to any of your opponents. By winning, White felt like he was "upping his threat factor" and expressed that he didn't want to be kicked out of the game; he just wants to keep playing, partying, and creating good content.
Humorous references aside, it was a striking comparison to make. Winning an award is something that's supposed to open new doors of opportunity, not close them. At the same time, there's something so relatable about getting a reward and immediately fearing that you'll lose it. It sets certain expectations, for those around you and for yourself, and those can be hard to meet. It can be hard to just enjoy the moment sometimes, even if you deserve it.
Plus, winning an Emmy doesn't mean you can't win another one. (Looking at you, John Oliver.)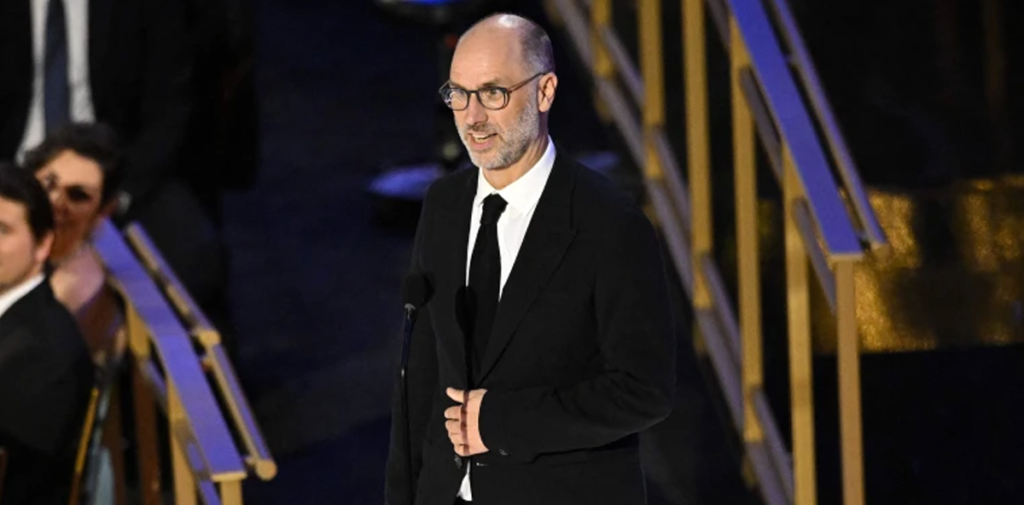 Jesse Armstrong
Outstanding Writing for a Drama Series – Succession
Chances are, if you heard about Jesse Armstrong's acceptance speech, it was in reference to his risky joke about the British monarchy. That was at the very end of the 2022 Emmy Awards, when Succession won Outstanding Drama Series. The speech I want to talk about came much earlier in the show.
Armstrong had a message for his fellow writers: sometimes, when your writing feels wrong, it's not as bad as you think it is. Sometimes it is, of course, but not all the time. "If you're blind to the merits," he said, "if you can only see the faults, it might just mean you're a proper writer."
Like some of the other best speeches, this one was incredible in the way it made people feel seen. Every writer knows the phrase "you are your own worst critic," but that doesn't make it any easier to take it to heart. If you're struggling with any project of your own, it's likely because you've spent more time looking at it than anyone else ever will, and are hypercritical of yourself. And if that's not #relatable, I'm not sure what is.
–
Brittney Wittmer considers herself a Professional Fangirl™. She is both an author and an editor for The Fan Room, focusing on fandom, film, television, and horror. Her greatest achievement to date is binge-watching fourteen seasons of CW's Supernatural in 40 days to prepare for the final season.