Inside the Upside Down: Stranger Things Experience NYC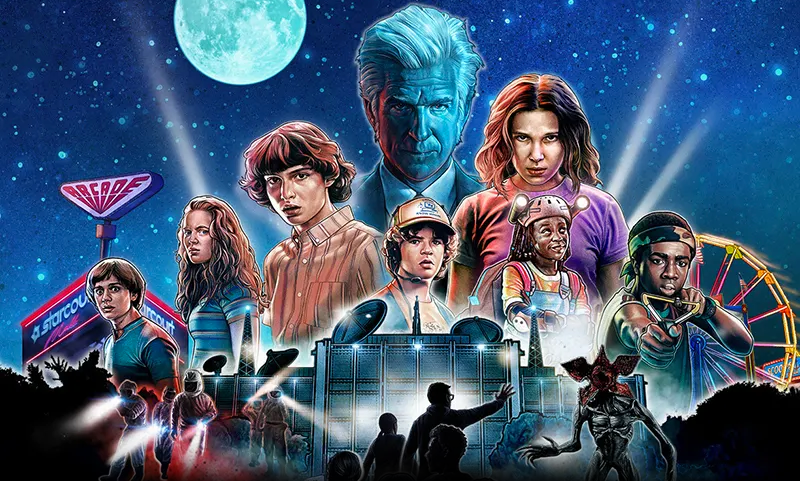 Brooklyn, do you copy? If there's any radio interference, don't worry—it's probably the inter-dimensional rift in the Duggal Greenhouse.
Since the beginning of May, the Brooklyn Naval Yard has been housing a portal straight into 80's Hawkins, Indiana. The Stranger Things Experience is an "immersive experience" that offers fans the opportunity to step into the world of Netflix's number one show and become the star. You'll tour through Hawkins National Laboratory, discover your own power, and interact with some of your favorite characters.
Not sure how immersive an immersive experience will be? We're here to take you through the Gate to Upside Down, and show you what you'll see, what you'll do, and what you can get with a VIP ticket.
Hawkins Lab's Sleep Study
In the days before your journey, you'll receive three emails from Fever—the trendy ticketing company that handles bookings for concerts, pop-up experiences, and other live events. One will have your tickets, one will go over the rules and safety guidelines of the venue, and the third will be your story prompt. (This is where you get into character!)
By signing up for the Stranger Things Experience NYC, you're acting as a volunteer in Hawkins National Laboratory's sleep study. The lab is open and operational—after being shut down at the end of Stranger Things Season 2—and looking to help the troubled citizens of Hawkins. You can help them ease some of this trouble by completing a series of tests and trials so the scientists can find the true cause of your…uh…abnormalities.
As you wait on line outside the lab, you'll watch a welcome video from Dr. Sam Owens, played by the legendary Paul Reiser. Once you and the rest of the test subjects—ahem, I mean, your friends—enter the premises, you're separated into three groups, each with a certain specialty: intelligence, intuition, and strength. You'll be asked to complete tasks based on your assigned group which—spoiler alert—will unveil your very own set of psychokinetic powers.
Honestly, this part of the Stranger Things Experience was a blast to engage with. I happily would have stayed and played superhero for three hours instead of just thirty minutes. Even for high-tech people who know exactly how each practical effect is pulled off, it's always fun to pretend you have superpowers. Don't be afraid to get into it! Assume your very best battle pose and put all your energy into the performance; life's more fun that way.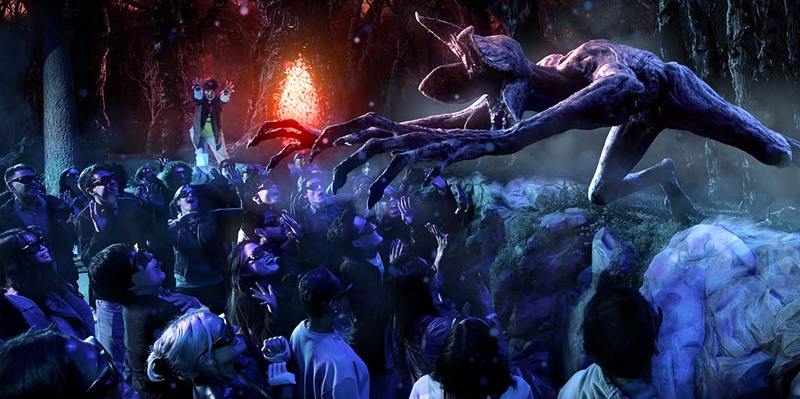 Stepping Into the Show
One of the coolest parts of the experience is the chance to engage with the main characters of Stranger Things. Many of the actors filmed scenes for the Stranger Things Experience, so you'll get to live out the plot of your very own episode. Through a combination of practical effects, security cameras, and high-tech screens, the Party will guide you through Hawkins Lab, and in return, you can help save Max and Eleven from the Upside Down.
The play-scenes in Hawkins Lab were definitely fun, but stepping into the Upside Down was a completely different experience. You'll don a pair of "protective glasses" before walking through the Gate, which lets you out into a forest in the other dimension—one that has a floor-to-ceiling 3D screen that would give IMAX a run for its money.
Now, I say this as someone that does not generally like going to 3D movies: this part was sick. The battle scene in the Upside Down incorporates recorded 3D events with live actors and real props, which absolutely helps bring the story to life. These days, watching a 3D movie generally just means getting a handful of effects to add depth. In the Stranger Things Experience, I literally took a few steps back to dodge monsters. I was pleasantly surprised by just how immersive the immersive experience felt.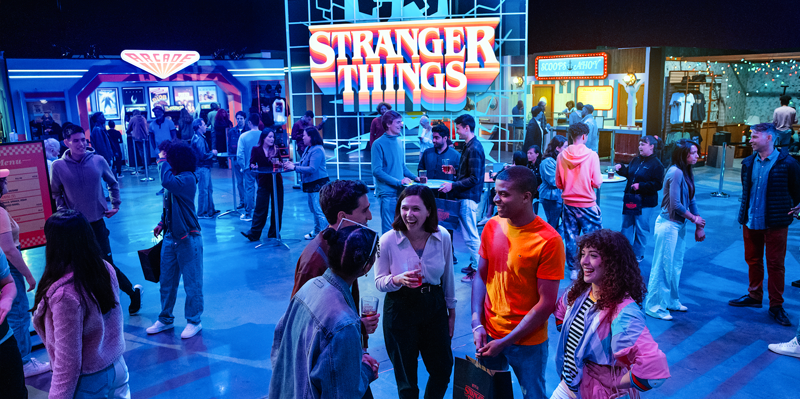 The "Mix-Tape" Area
After you wrap up your adventure, you'll walk into the Mix-Tape: an indoor shopping venue with food, merchandise, and a ton of 80's décor and music. In other words: my paradise.
The Mix-Tape has an array of recreated sets and shops where you can by merch from the Stranger Things Experience. You can shop at Family Video, The Hellfire Club, Palace Arcade, or even Rink-O-Mania. (Technically that's in Lenora, CA, but anything is possible through the magic of multidimensional portals.) There's also a great photo op in the Byers' living room, complete with alphabet and Christmas lights. Way in the back of the venue, you can even hop on line to get your picture with a Demogorgon. (Don't worry, he's cordoned off from the rest of the area so he won't eat the shoppers.)
If you want a bite to eat, you can visit familiar venues like Surfer Boy Pizza and Scoops Ahoy Ice Cream Parlor, both of which have expanded menus. At the Surfer Boy food truck, you can fries or a corndog—but not Hawaiian pizza, to Argyle's dismay—and Scoops has a great entrée of chicken and waffles. You'll also have a chance to grab a drink at The Upside, which sells themed cocktails and mocktails, along with an array of soft drinks.
A word of caution if you grab a bite to eat—the Stranger Things Experience is designed to clean up after you. You'll see a handful of garbage cans around the area, but apparently those are only for small trash and receipts, not your empty food basket. This polite reporter got the stink eye from a few staff members for trying to clean up after herself. So, even if it goes against your instinct, leave your food refuse behind for the professionals to handle.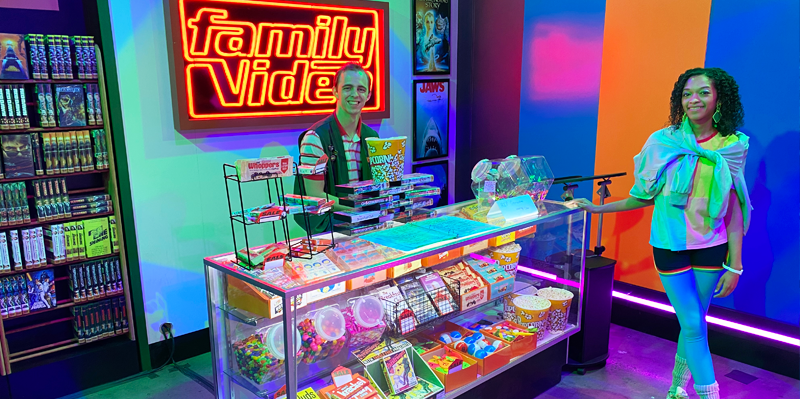 The VIP Stranger Things Experience
If you're looking into tickets for the Stranger Things Experience, there are two types: standard admission and VIP. For an additional $40, you'll receive "a complimentary drink, a special Stranger Things gift, and priority access." But what does that actually mean in practice?
The most important thing to keep in mind is that "priority access" only helps you at the start of the experience—after you get through security and before you enter Hawkins Laboratory. At 2 o'clock on a Saturday, the building was only moderately busy, so the VIP line wasn't much shorter than general admission. We still had a 30-minute wait to get into the lab. Thankfully, all branches of the line were inside and air conditioned.
Being VIP also appears to funnels you into the "intellectual group" during the tests. However, the group doesn't get any special treatment, particularly strong powers, or more tasks than the rest of the group. I'd almost expected to be singled out or asked to do something particularly cool—but maybe that's just the theater kid in me.
Once you get into the Mix-Tape, everyone uses the same lines, so it's not like having a theme park fast pass; you'll still have to wait for food and drinks and shopping. The free drink does come with a reusable souvenir cup, and our free gift was a Stranger Things tote bag. According to the staff, the gift changes week to week, so there's no telling what you'll get when you pick yours up.
Totaling it up, the $40 upgrade translates pretty evenly into the $18 cocktail, a $15 shopping coupon, and a tote bag that couldn't be worth more than $10. The VIP experience isn't exactly a rip-off, but it's by no means a steal. If you could skip lines in the Mix-Tape, it would be a different story. From my experience, the upgrade was just paying up front for things I probably would have bought anyway.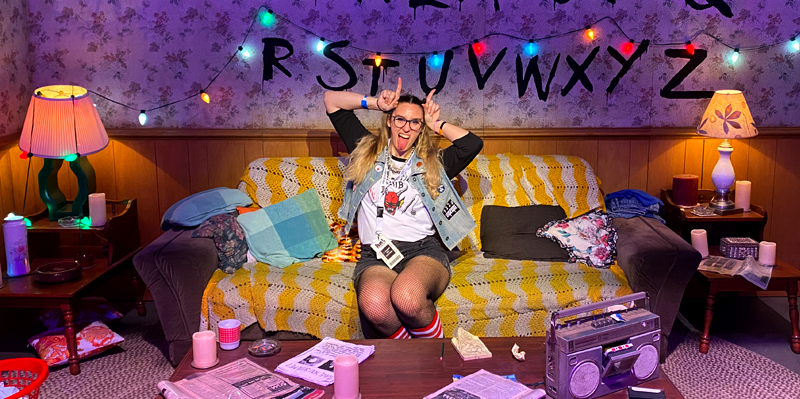 The Experience of the Stranger Things Experience NYC
Was it what I expected? Yes and no. The immersive experience of Hawkins Lab definitely lived up to my expectations, with really fun effects and some pleasantly surprising twists. The Mix-Tape was smaller than I'd anticipated, with a lot of cool things crammed into a relatively tight space. It's also indoors, so while it's great to have air conditioning, it's worth keeping in mind that there's no mask requirements for the event. If you have health complications or are at-risk for COVID-19, that may be an important factor.
Would I do it again? Absolutely. As someone who's obsessed with Stranger Things, I'd never miss up a chance to enter another world, even if the story was the same the second time around. And while the lab tests are a guided experience, you can stay in the Mix-Tape as long as you'd like. I could happily pass an afternoon bouncing between the food court and the bar, just listening to 80's music and trying all the different themed treats they have.
If you're a fan of Stranger Things, I would definitely recommend booking a visit. It's a one-of-a-kind experience to be a part of the show, and it was a great way to spend an afternoon with friends. The Stranger Things Experience NYC will only run until September 4, but there's still time to buy tickets. For more information, visit the Stranger Things Experience page on Fever. In the meantime, I'll leave you with some do's and don't.
DO: Dress the part. Your invitation encourages you to wear your best 80's fashion, to help keep you immersed in the era. There were plenty of folks who didn't, but you're reading the article on a costume site, so I'm gonna suggest you do.
DON'T: Take pictures in Hawkins Laboratory. While photography is encouraged in the Mix-Tape, you're not allowed to do any recording during the guided experience. Much as you may want to remember it, recordings can spoil the surprise for anyone who hasn't attended the event.
DO: Get into the roleplaying! It's always awkward to put yourself out there, especially in front of strangers. Don't be afraid to get silly and play pretend. It's a lot more awkward when everyone stands around waiting for someone else to go first.
DON'T: Throw your food in the garbage can. While you might not see any signs, the black garbage cans around the Mix-Tape are not for food refuse. When you're done eating, you can leave your containers on the table for staff to collect.
DO: Pay attention to the rifts in the Mix-Tape. You might see breaks in reality where the Upside Down is starting to bleed through. Make sure to take a close look at those cracks. They're part of a special activity that can win you a small bonus prize.
DON'T: Forget to check out The Fan Room, for more looks into the coolest pop culture events. Plus, as much Stranger Things content as I can get away with publishing!
–
Brittney Wittmer considers herself a Professional Fangirl™. She is both an author and an editor for The Fan Room, focusing on fandom, film, television, and horror. Her greatest achievement to date is binge-watching fourteen seasons of CW's Supernatural in 40 days to prepare for the final season.