Halloween Horror Nights: Orlando or Hollywood?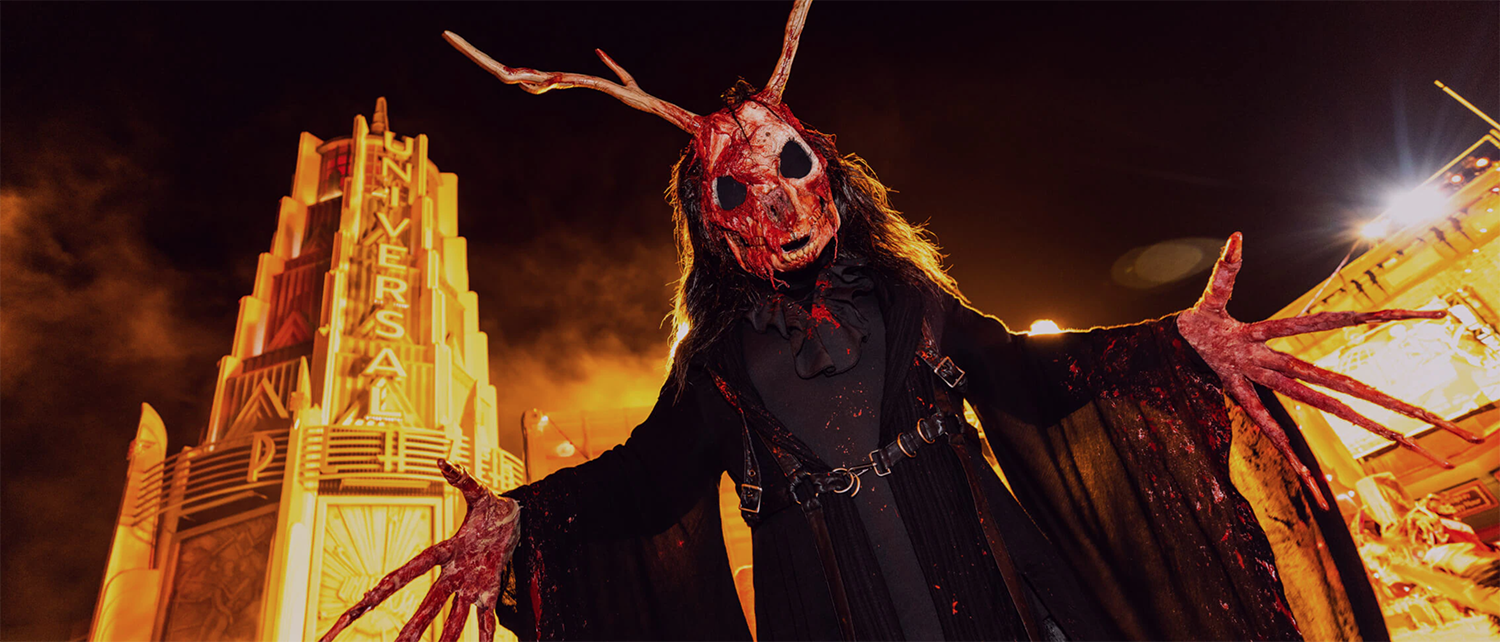 The nights are getting colder. The shadows are getting longer. The screams can be heard from miles around. It's the most wonderful time of the year: Universal's Halloween Horror Nights.
Every autumn, Universal Studios hosts one of the biggest events for Halloween and horror fanatics. For nearly two months, the theme park opens its gates after dark to terrify attendees with haunted houses, elaborate stage shows, and monsters prowling the streets. There's no greater joy than being chased through an amusement park by an evil clown with a chainsaw.
But Halloween Horror Nights also comes with an impossible choice: visiting Universal Studios Orlando or Universal Studios Hollywood. Before you book those plane tickets, here's what you can expect at each park and how to get the most BOO for your buck.
Main Haunted Houses
The main attraction of Halloween Horror Nights is – and always has been – the haunted houses. These high-quality sets are constructed throughout the park, utilizing any spare space between shops and rides. It's almost supernatural how they can pack so much horror into an already crowded space. The experiences vary from general terror to licensed spooks that bring the most popular horror franchises to life.
The "headliner" experiences will be available at both parks. This year they include
Halloween with Michael Myers
Universal Monsters: Legends Collide featuring Dracula, the Mummy, and the Wolf Man
The Horrors of Blumhouse featuring characters from blockbusters Freaky and The Black Phone
The Weeknd: After Hours Nightmare, which will take fans into the twisted mind of music sensation The Weeknd
The Weeknd's attraction might seem odd to some HHN veterans, but we urge you to give it a chance. A slow start ramps up into a fun maze of mirrors and unexpected scares, making it one of our personal favorites. And of course, it wouldn't be Universal's Halloween Horror Nights without the Universal Monsters. Legends Collide is another experience that is an absolute must-see.
Halloween is sure to be a crowd pleaser, but you might see a shorter line at Universal Studios Hollywood. Michael Myers terrorized the park last year in a Halloween II experience, so it will be interesting to see what changes are made to evoke the original film.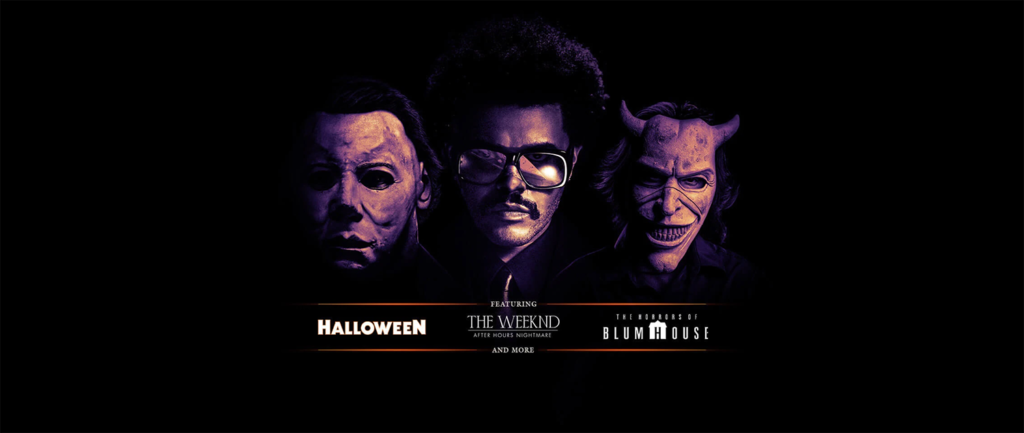 Unique Haunted Houses
Hollywood's Halloween Horror Nights will have five additional experiences to scare park-goers:
Killer Klowns from Outer Space, based on the 1988 film
La Llorona
Scarecrow: The Reaping
Universal Horror Hotel
The Terror Tram, an outdoor experience which will include memorable features from Jordan Peele's films Us and NOPE
Some of these are recognizable properties, like Killer Klowns and NOPE, while others are non-licensed themes. On the other hand, all of the additional houses at Halloween Horror Nights Orlando are based on original stories that allow the actors to work from scratch. In Florida, you can look forward to:
Spirits of the Coven
Bugs: Eaten Alive
Fiesta de Chupacabras
Hellbock Horror
Dead Man's Pier: Winter's Wake
Descendants of Destruction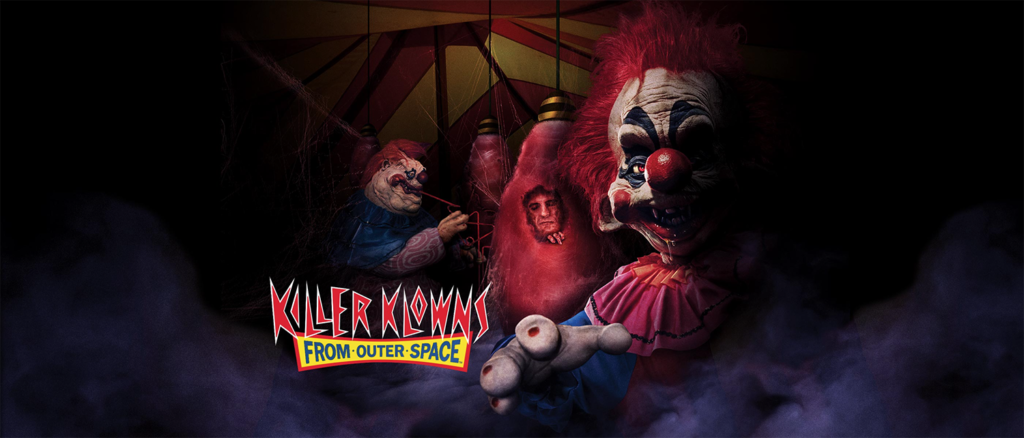 Additional Attractions
Another staple of Halloween Horror Nights is the Scare Zones. These actors roam the streets freely and will haunt you without making you wait in line. Since Universal Studios Hollywood is considerably smaller than Universal Studios Orlando, there's less space to squeeze in these attractions. Hollywood features three scare zones this year, while the Orlando park will play host to five.
The parks also host stage shows that you can attend for an extra spectacle. At Halloween Horror Nights in Orlando, the Halloween Nightmare Fuel Wildfire features pyro and aerial performers—a massive success last year—and a light show over the Universal Studios lagoon.
The Jabbawockeez will be performing at Halloween Horror Nights in Hollywood. Strictly speaking, that's the only show the park will have. However, Harry Potter fans can look forward to a campus full of Death Eaters as the evil wizards roam the grounds outside of Hogwarts. While Orlando has its own Wizarding World attractions, the Death Eaters will only be dueling in Hollywood.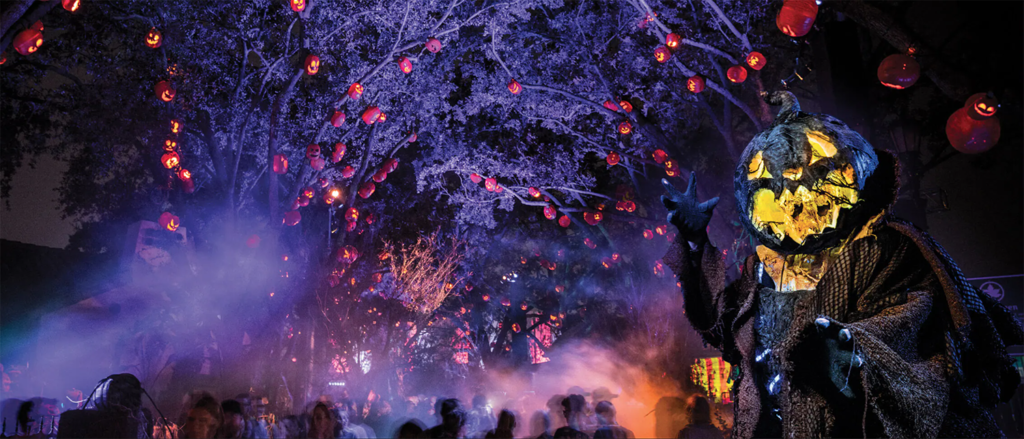 Halloween Horror Night Tickets and More
There are always additional factors to consider with Halloween Horror Nights—crowds, rides, food and vendors, etc. In the past, it's been my experience that Hollywood keeps more of its rides operational after hours, while Orlando has more staffed amenities. (AKA, I was able to grab dinner at The Three Broomsticks in Florida, but in California they were only serving desserts.) There are plenty of food trucks and drink stands that serve themed treats, but more options generally means shorter lines. It's up to you to tailor your experience.
But what are you getting for your buck? Let's recap.
Universal Studios Hollywood: 8 haunted houses, the Terror Tram, 3 scare zones, 1 performance show, plus Death Eaters. An Express ticket with front-of-the-line treatment starts at about $199.
Universal Studios Orlando: 10 haunted houses, 5 scare zones, 2 performance shows. Florida doesn't sell compound Express tickets, so you'll have to buy your entry ticket and fast pass separately. Altogether, that brings you to a starting price of $210.
That's a whopping $11 difference. So… not a whole lot.
Ultimately, the park you choose for Halloween Horror Nights should be about the experience you want to have. If your goal is to step into the shoes of your favorite final girl and live the films you know and love, Hollywood is probably your final destination. If you're looking to be surprised and terrorized by a sprawling cast of original characters, then Orlando might be the way to go.
Or just do both. That's what I always do!
–
Brittney Wittmer considers herself a Professional Fangirl™. She is both an author and an editor for The Fan Room, focusing on fandom, film, television, and horror. Her greatest achievement to date is binge-watching fourteen seasons of CW's Supernatural in 40 days to prepare for the final season.