So You Want More Pedro Pascal

There's no denying that Pedro Pascal is the internet's Man-Crush of the Month. (Months? At least the first quarter of 2023.) He's one of those actors the internet seems to re-discover every few months, but this time, he's really made a splash. SNL, TikToks, fancams—yes, we're looking at you, dvcree—there's simply no hope of escaping the Chilean-American actor. Then again, why would we want to?
There's any number of places you could've seen Pedro Pascal—Game of Thrones, Narcos, Wonder Woman 1984. Maybe you just saw him on social media, proclaiming himself as the "Daddy" of the internet. Whenever you jumped in on the fun, welcome aboard!
Before you set out on your journey though Pedro Pascal's filmography, here's a breakdown of some of our favorite Pedros and how much time you'll need to put aside for each.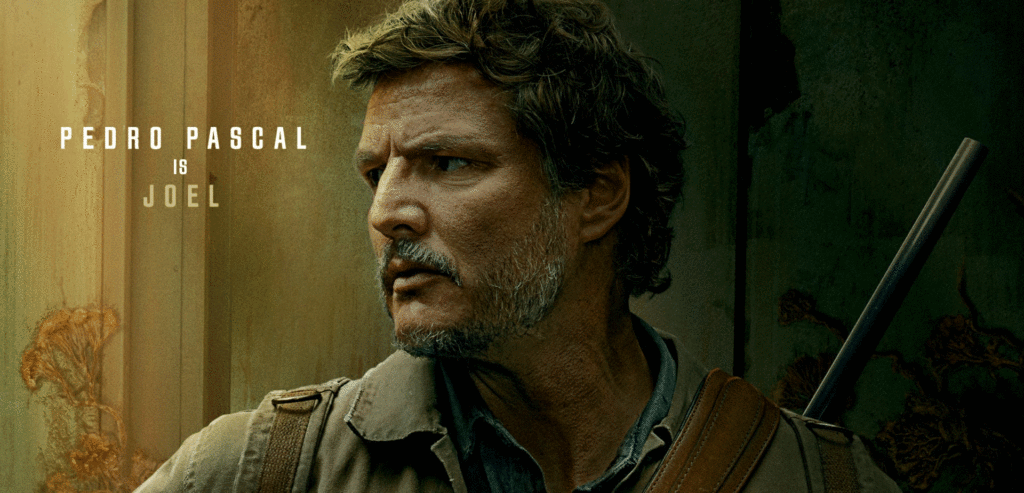 The Last of Us
Joel Miller – A.K.A. Apocalypse Daddy Pedro
Where to Watch: HBO Max
Watch Time: 6 hours 13 minutes
The Last of Us premiered on HBO Max last month on January 15th, and has really been a catalyst for Pedro Pascal's return to the public eye. The series is an adaptation of the popular video game of the same name, developed by Naughty Dog. While video game adaptations have a shaky history, most fans have been blown away by the accuracy and art put into HBO's series. Some shots and dialogue are taken word-for-word from the game, while other scenes take liberties to tell a new story.
The show takes place in a world ravaged by a global pandemic—but not that one. Rather than a virus, the outbreak in The Last of Us is a fungus that takes over the human body. Joel Miller is a gruff survivor, traumatized by the loss of his daughter twenty-years ago, haunted by his past, and determined to keep people at a distance. That becomes a lot harder to do when he's charged with taking fourteen-year-old Ellie across the country, delivering her to doctors who are working to develop a cure. It's a classic story of found family, and while Joel is intimidating on the outside, the soft spot he develops for Ellie makes his character pure gold.
You don't need to be familiar with the game series to watch the show. What you will need is a strong stomach and emotional endurance. The costumes and effects that bring the monsters to life are truly terrifying. The Last of Us is also incredibly good at making you get attached to a character before tragically killing them. So, you know…be prepared for that.
Trigger Warning: Please note that The Last of Us contains graphic violence, body horror, and the death of children and animals. Visit Does the Dog Die? for more information.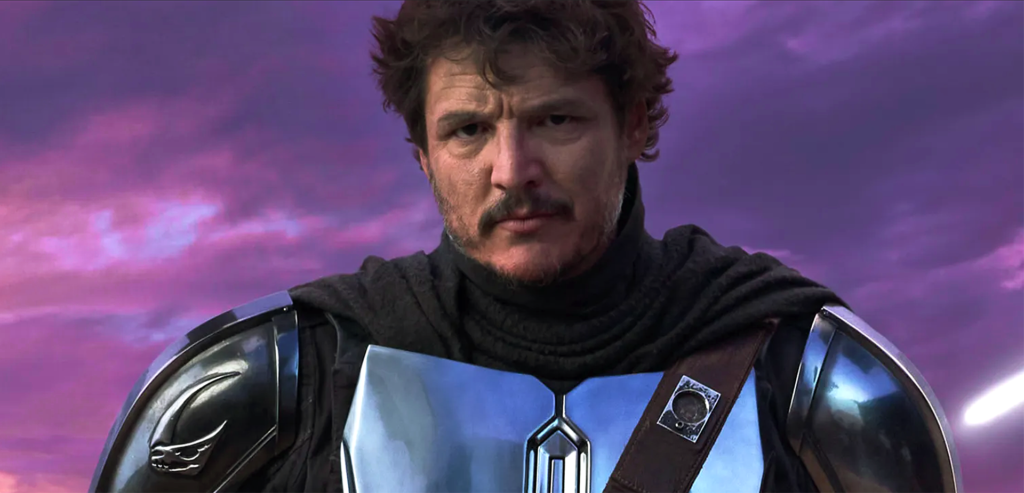 The Mandalorian
Din Djarin – A.K.A. Space Daddy Pedro
Where to Watch: Disney Plus
Watch Time: 10 hours 38 minutes
It is logistically impossible for you to not know about The Mandalorian. I don't think there's a human on this earth that hasn't seen "Baby Yoda" at least once since the show premiered in 2019. While the series exists within the Star Wars universe, it takes a different direction than anything in the Skywalker Saga and expands the story in a big way. For now, it's easy to say The Mandalorian is carving the franchise's path into the future.
Din Djarin begins the series as a bounty hunter, taking jobs for pay without any emotional or moral judgment. He's a loner until he meets Grogu—a force-sensitive toddler from a mysterious alien race. Djarin was paid to collect Grogu and deliver him to an Imperial officer; instead, he takes Grogu on the run to protect him from the powerful enemies after him. It's a classic story of found family, and while Din is steely on the outside, his soft spot for Grogu makes—
Oh wait. We've heard that before, haven't we? Disgruntled, adoptive father of a special kid on a journey is quickly becoming Pascal's type-cast.
Even though he plays the main character, you will see less of Pedro Pascal in this show. As a Mandalorian, Din Djarin has taken an oath to never show his face to another being. (That's right—the helmet stays on.) Don't worry though: the audience doesn't count as another being, so there are still some scenes where you'll get to see him.
Now is the perfect time to watch The Mandalorian, since Season 3 premieres on Wednesday, March 1st!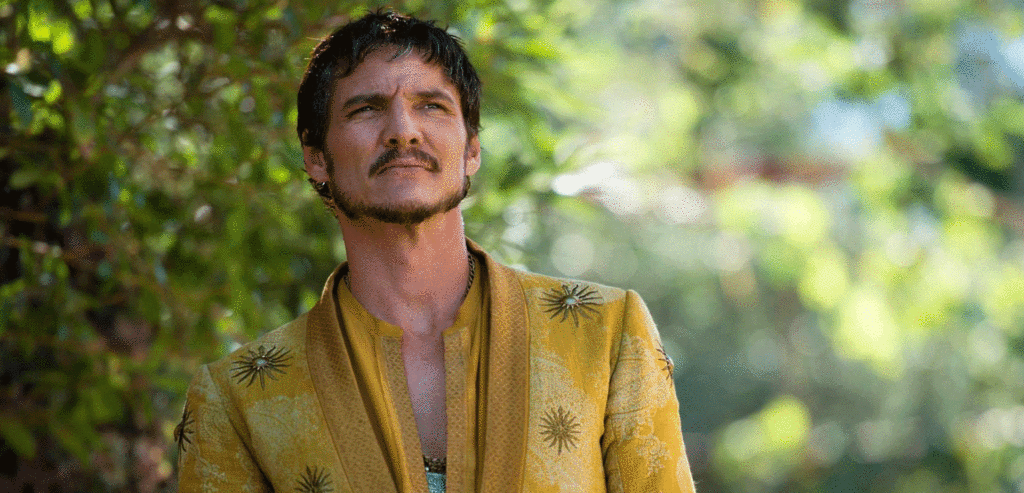 Game of Thrones
Oberyn Martell – A.K.A. Orgy Pedro
Where to Watch: HBO Max
Partial Watch Time: 6 hours 14 minutes
Full Watch Time: 70 hours 14 minutes
Even if you haven't watched either of those, you'll at least be familiar with Game of Thrones. The adaptation of George R. R. Martin's series, A Song of Ice and Fire, was a hit the moment it hit screens. It amassed a tremendous audience, a rabid fan-base, and several spin-off projects at HBO.
Oberyn Martell is one of Pedro's most well-known breakout roles; and what a role it was. Oberyn was introduced in Season 4 as the Prince of Dorne, one of the desert kingdoms in Game of Thrones. He was well known in Westeros for his aggressive fighting skills, his competence with his battle staff, and his uh…sexual appetites. Game of Thrones was well-known for its mature content warnings, so they certainly didn't shy away from that.
Of course, the mature content warning applies to stuff that's not-so-fun as well. If you're gearing up to watch Pedro's episodes of GOT, be prepared for graphic gore, extreme violence, cursing, nudity, and toxic relationships. Just because a show is well-made doesn't mean the content is for everyone.
Oberyn only appears in 7 episodes of Game of Thrones. If you don't care about context, that's about 70 hours of TV, but if you want to understand the nuance of the fantasy politics and land wars, you might want to watch a bit more. If you decide you're in for the long haul, though—beware. Game of Thrones had a very divisive final season and received heavy critique from even its biggest fans.
Trigger Warning: Please note that Game of Thrones has both graphic violence, depictions of sexual assault, and the death of several animals. Visit Does the Dog Die? for more information.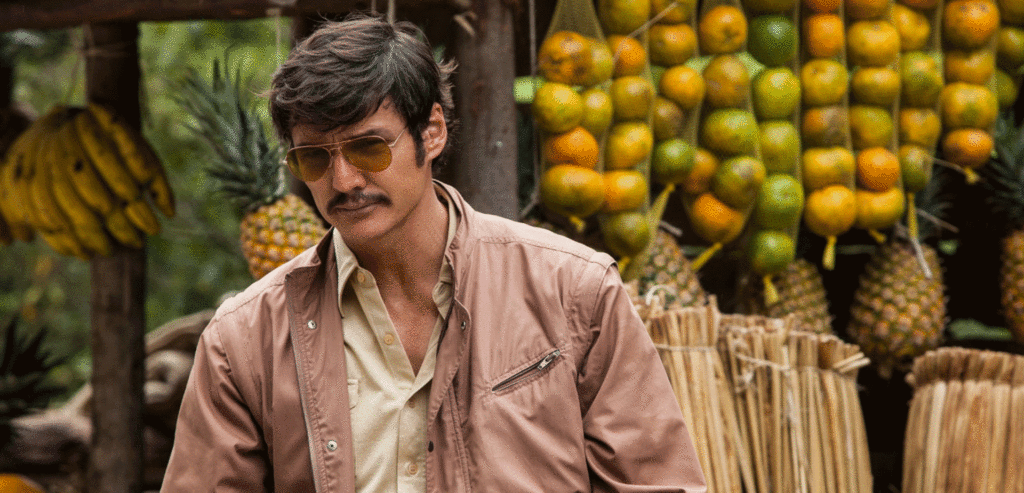 Narcos
Javier Peña – A.K.A. Pedro de la Cocaína
Where to Watch: Netflix
Watch Time: 25 hours 50 minutes
Narcos is a Netflix Original Series based on the true events of the war on drugs. It tells the story of the rise of cocaine in both Colombia and the American market, the major players in the cartel, and the crimes committed on both sides of the war. In its own way, Narcos is like Game of Thrones without the fantasy. It's brutal with its on-screen violence, heavy-handed with adult content, and full of morally grey characters who are never fully right or wrong. You sympathize with the bad guys, despise the good guys, and then switch right back. They're just talking about drugs instead of dragons.
Pedro Pascal plays Javier Peña, a fictionalization of a real DEA agent. He and his partner, Steve, lead the investigation into Pablo Escobar and the Medellín Cartel. He's as much of a "good guy" as you can get on a show like this: ruthless with criminals, fast and loose with the rules, but still compassionate…I guess. He's not the golden-hearted Pedro you'll find in other series on this list. However, Pedro de la Cocaína does wear significantly tighter pants and have more explicit scenes. Game of Thrones only gave him seven episodes to shine; Narcos gave him thirty.
Ultimately, it depends what you're looking for in a watchlist. Narcos is undeniably fascinating and well-written, but it's not for the faint of heart.
Trigger Warning: Please note that Narcos contains graphic violence, depictions of sexual assault, and the death of several animals. Visit Does the Dog Die? for more information.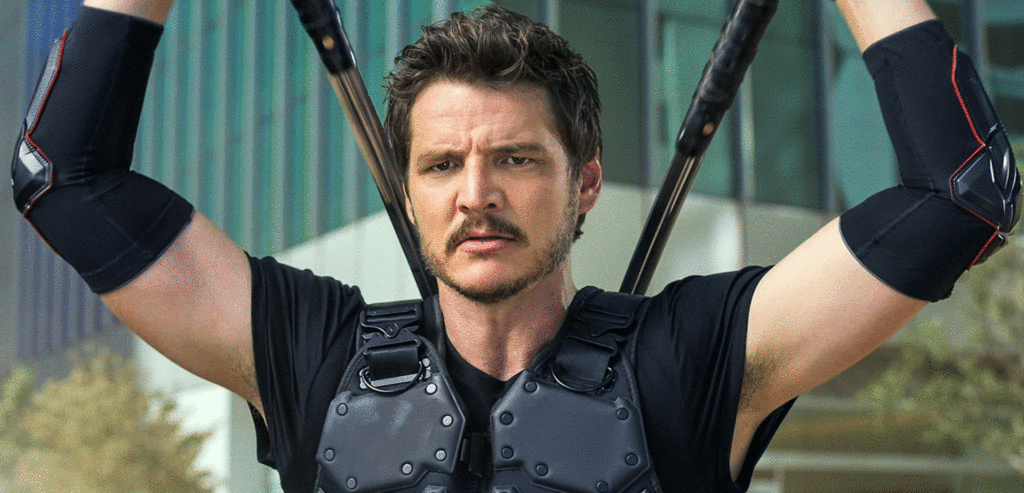 We Can Be Heroes
Marcus Moreno – A.K.A. Superhero Daddy Pedro
Where to Watch: Netflix
Watch Time: 1 hour 40 minutes
Here's a throwback for all the millennials out there. Do you remember the iconic film The Adventures of Sharkboy and Lavagirl? Are you aware that they made a distant sequel? One that stars Pedro Pascal and, incidentally, his Narcos co-star Boyd Holbrook?
I mean, just that is enough to merit a watch.
This time, Pedro plays the biological father of a special kid on a journey. You know, for some variety! Marcus Moreno is a single father and retired superhero. That is, until a massive alien invasion forces him back into action. Unfortunately, the action's over pretty fast when the aliens capture the whole team of heroes. Then, it's up to their children to save them…and then world.
Keep in mind, this is intended as a fun movie for families and kids. Think Disney's Sky High with a Netflix budget and all the gumption and pizzazz of the original Spy Kids movies. It is cheesy and silly with a remarkable cast—although they didn't manage to get Taylor Lautner back as Sharkboy, which was a real shame—but watching Pedro play a proud, dorky dad will certainly give you the fuzzies.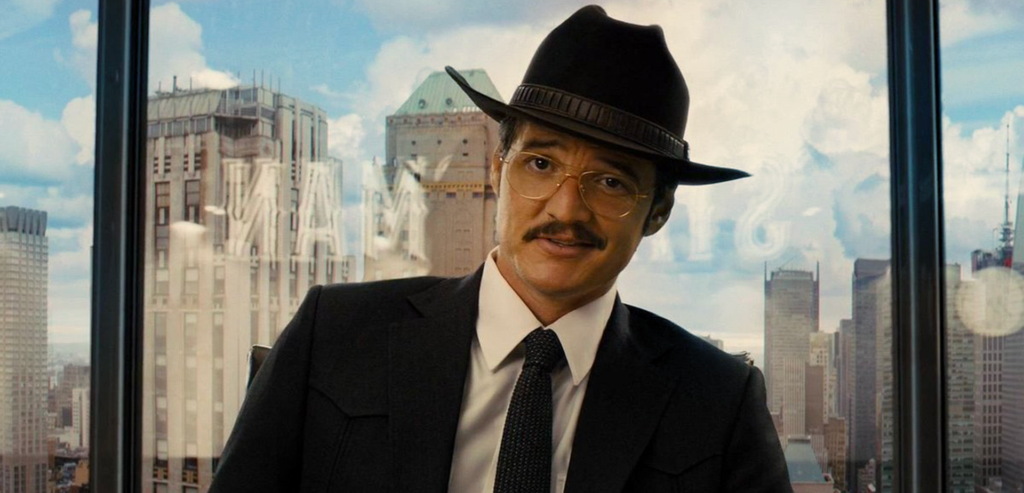 Kingsman: The Golden Circle
Agent Jack Whiskey – A.K.A. Cowboy Pedro
Where to Watch: Rent or Buy on Prime Video
Partial Watch Time: 2 hours 20 minutes
Full Watch Time: 4 hours 30 minutes
Entertaining and remarkable, but much less wholesome is Kingsman: The Golden Circle.
The Kingsman movies are adapted from a comic book series of the same name. Staring Taron Egerton, Colin Firth, and Mark Strong, the story surrounds a secret spy agency linked to the Knights of the Round Table. Eggsy (Egerton) is selected as a potential recruit to follow in his father's footsteps—something he knows very little about. The first film follows his training, induction, and first world catastrophe, but it isn't until the sequel that Pedro's character is introduced.
Agent Whiskey is from the Kingsman's sister branch in America, where agents are named after alcohols instead of legendary knights; very American. Whiskey is one of those characters that is great because they're fictional. He's a slick, Southern womanizer, so while he's fun to watch, I would have a physical altercation with him in real life. That being said, Pedro has some great stunt work and hilarious lines that make it worth the watch!
Feel free to watch Kingsman: The Golden Circle on its own, but we highly suggest that you don't. It's my personal opinion that the first film is better, but then again, it doesn't have Pedro Pascal with a whip.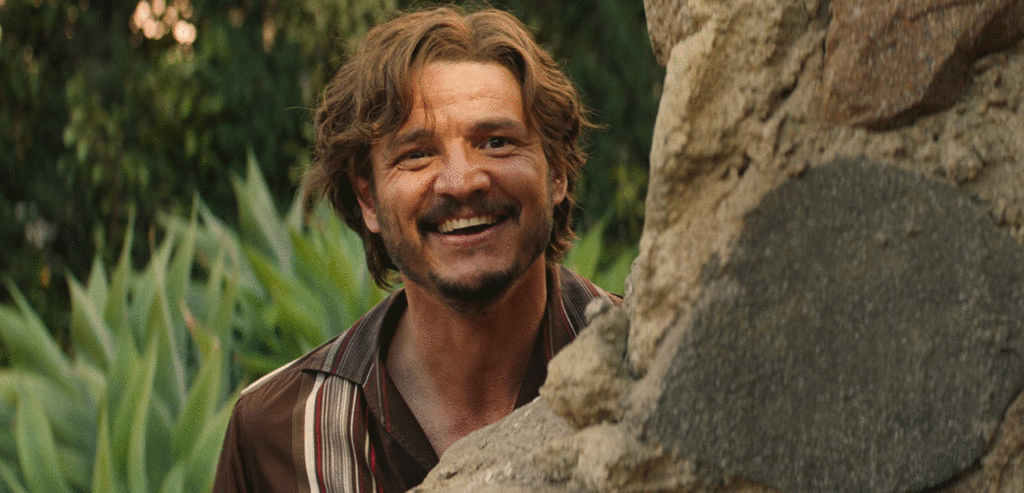 The Unbearable Weight of Massive Talent
Javi Gutierrez – A.K.A. Screenwriter Pedro
Where to Watch: Rent or Buy on Prime Video
Watch Time: 1 hour 47 minutes
The Unbearable Weight of Massive Talent is a Nicolas Cage movie in which Nicolas Cage plays Nicolas Cage. Pedro Pascal plays Javi, a Nicolas Cage fan with billions of dollars and ties to a powerful crime family. When Javi invites Nicolas Cage to his birthday party to read his screenplay, he and Nicolas Cage are thrown into a whirlwind plot that depends on their new friendship. That Pedro Pascal has with Nicolas Cage.
In short: this film is a masterpiece.
Comedies can be really hard to get right, but this movie has the perfect balance of smart writing and complete idiocy. There are car chases and gunfights, and also a scene where Javi and Nicolas Cage sob while watching Paddington 2. They have a hilariously beautiful friendship and the plot allows—no, relies—on both of them being silly and over the top.
Pedro gets to be all smiles in this movie. I'm not sure there's a better way to describe it than "golden retriever energy," as overused as that may be. Throughout all the action and plot twists, Javi is just an overtly genuine character who means the best, even if he is a little eccentric. He's a joy to watch, so this is a fabulous movie to choose if you're looking for a pick-me-up!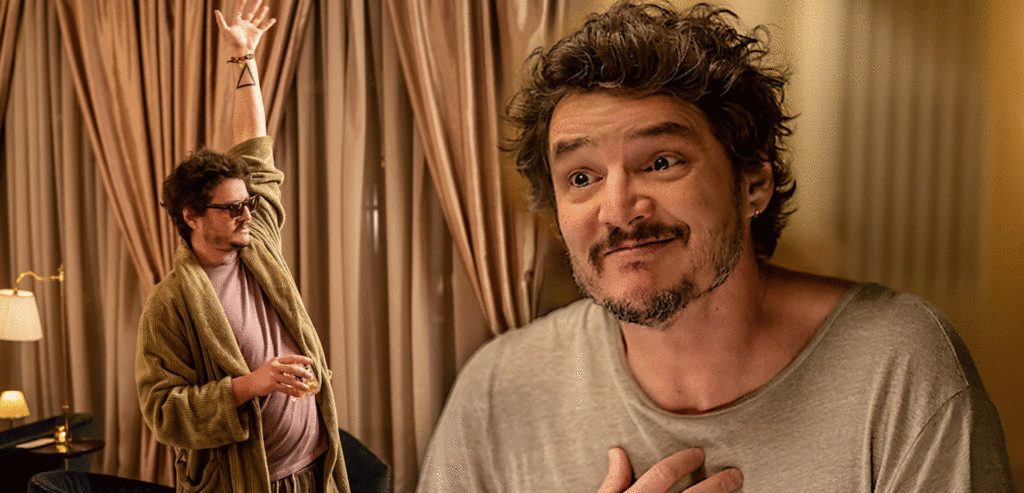 The Bubble
Dieter Bravo – A.K.A. Party Boy Pedro
Where to Watch: Netflix
Watch Time: 2 hours 6 minutes
I've saved one of my favorites for last.
The Bubble is another Netflix film that centers around the lives of actors "behind the scenes." Set during the pandemic, a cast of actors is sent to a luxury hotel in England to quarantine and film their action movie…which goes wrong in every imaginable and unimaginable way. If you've heard of the stage play The Show That Goes Wrong, then you'll get the idea.
The Bubble is an absolutely bonkers movie with an all-star cast and tons of celebrity cameos: Karen Gillan, Keegan-Michael Key, David Duchovny, James McAvoy, Daisy Ridley, John Cena—the list goes on. Seeing a list of names that long can be concerning, a sign the film may be overcompensating for a half-baked plot. But The Bubble is less of a plotted story and more a carefully threaded series of gags that are satirical and self-aware. Most importantly, it seems like everyone on (the real) set is having the time of their lives.
Pedro Pascal, at the very least, must've been living the dream. His character Dieter Bravo is a party boy oddball who spends most of the movie drunk, high, and horny. That basically gave Pedro an open playground to be as loud, weird, and dramatic as he wanted to be. He talks in outrageous accents, performs TikTok dances with reckless abandon, and just generally gets to be a goofball. His energy alone could have kept me smiling for the whole two hours straight.
We couldn't possibly list the great things about every one of Pedro Pascal's roles. (Or, we could, but it would take an incredibly long time.) Make sure to let us know what your favorite Pedro characters are by following us on Twitter and Instagram.
–
Brittney Wittmer considers herself a Professional Fangirl™. She is both an author and an editor for The Fan Room, focusing on fandom, film, television, and horror. Her greatest achievement to-date is binge-watching fourteen seasons of CW's Supernatural in 40 days to prepare for the final season.