John Wick Chapter 4 Review: Action on a Whole New Level

It's hard to imagine John Wick: Chapter 4 being any more action-packed than its predecessors—until you see it for yourself. Somehow, each installment in the franchise has raised the stakes, increased the danger, and maintained the quality of the story. Chapter 4 lets John Wick off the leash in a vibrantly-colored, multi-cultural battleground with some of the toughest, most interesting opponents yet.
The official summary explains, "John Wick uncovers a path to defeating The High Table. But before he can earn his freedom, Wick must face off against a new enemy with powerful alliances across the globe and forces that turn old friends into foes."
There's a fine line that John Wick has to walk as a franchise. It's been almost a decade since the first film was released in 2014. Sure, Hollywood has changed with new technology and effects, but the audience has changed too. There are different expectations for action, comedy, and storytelling. Meanwhile, for John, it's only been a few months…a few really, really bad months. John Wick: Chapter 4 has to satisfy a new audience while remaining tonally and visually consistent with its roots.
How do you do that? By taking the essentials of John Wick and showing them on a much bigger scale.
Chapter 4 expands our view of the John Wick universe. It just gives us more—more locations, more characters, more fights, more stunts. It builds off the previous films in a natural way, which makes it easy to believe the new stuff has existed the entire time.
Some of this is actual new stuff, like characters. Two of the biggest additions are Caine and Shimazu—two assassins who have a deep and complicated history with John. In the past, they trained and fought together, as close as friends can be in the profession. Now that John has made himself the number one enemy of The High Table, they've become reluctant allies and enemies. The conflict between their responsibilities and their respect for each other plays out perfectly on screen—not to mention the legendary fighting skills brought by Donnie Yen and Hiroyuki Sanada.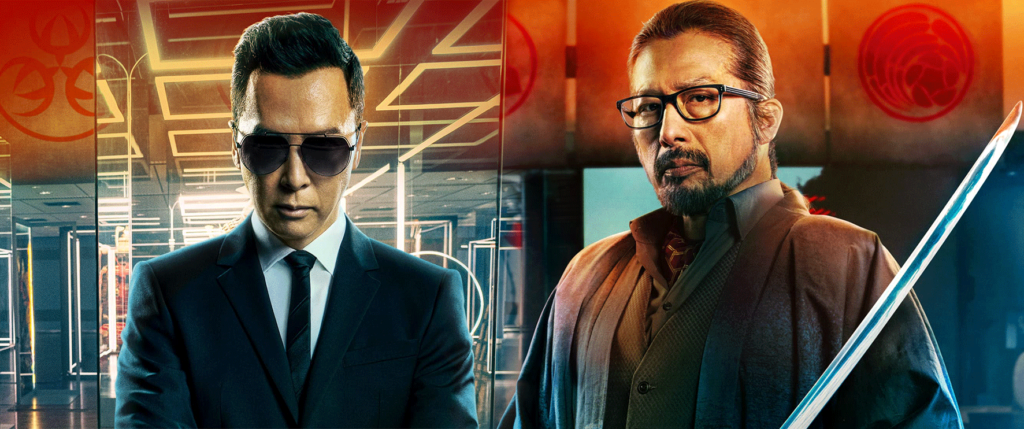 It's just one of the ways that John Wick: Chapter 4 uses emotion in a bigger way than before. It's what sets John apart in the previous films; for most assassins, it's nothing personal, but for John, everything has become personal. At the start, it makes him seem like an outlier, but that impression fades over the course of the series. Chapter 4 fully embraces the idea that everyone has a personal weakness—whether that's friendship, the relationship between a father and daughter, or the bond between a man and his dog.
It wouldn't be John Wick without dogs, and John is far from the only animal lover in the series. Chapter 3 gave us Halle Berry as Sofia, while Chapter 4 gives us the Tracker.
Played by Shamier Anderson (Race, Wynonna Earp), the Tracker is easily one of the best characters in the film. He's the ideal assassin: a lone wolf whose only allegiances are to his dog and his paycheck. There's very little internal debate for him; it doesn't matter who's good or bad so long as he get paid. The cut and dry priorities come with a dry sense of humor, which makes him easy to root for—no matter which side he's on at any given moment.
The Tracker's dog isn't just a pet or companion. He's a partner, highly trained and just as vicious as his owner. More than that, the way that they move and work together, the dog is like an extension of the Tracker himself. The dog has humanlike intelligence and the Tracker has doglike senses. They're two halves of a whole, which makes for the best kind of character dynamic.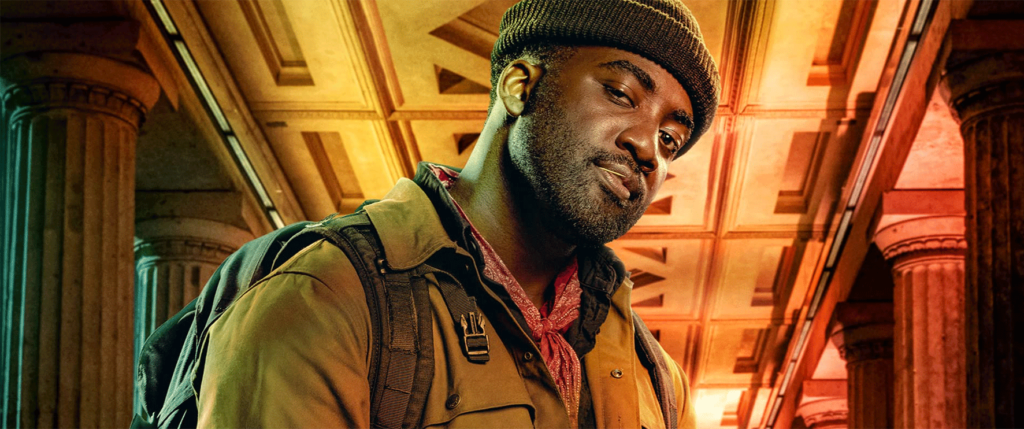 It's comical to think that, in the first movie, the bounty on John Wick was 2 million dollars. Now, it's 40 million, and there are a lot more people playing to win. More enemies means more fighting, and the new film tackles that project with more fervor than ever before.
Stunt coordinator Stephen Dunlevy rightfully boasts, "Any individual stunt piece in this film could be the tentpole action piece for any other movie." He's more than right. There are fourteen major action sequences in John Wick: Chapter 4, between car chases, gunfights, and duels. That's a whole lot of combat that, in any other movie, might blend together into a two-hour montage of punching and explosions. But Chapter 4 wields its narrative pacing as well as John Wick wields a TTI Pit Viper—and it helps that the movie is almost three hours long.
It certainly doesn't feel that long. Each one of the action sequences is a carefully crafted combination of different weapons, setting, and cinematography. Some sequences parallel those from the earlier movies, like the room of glass cases in Chapter 3. Some take a normal fight sequence and elevate it by adding complicated terrain, like an 8-lane traffic circle or the 300-steps up to the Sacré-Cœur in Paris. Personally, my favorite action piece is an apartment gunfight filmed from above, looking down on the rooms and players as if it were a video game. It's innovative details like this that make each fight so unique and distinct.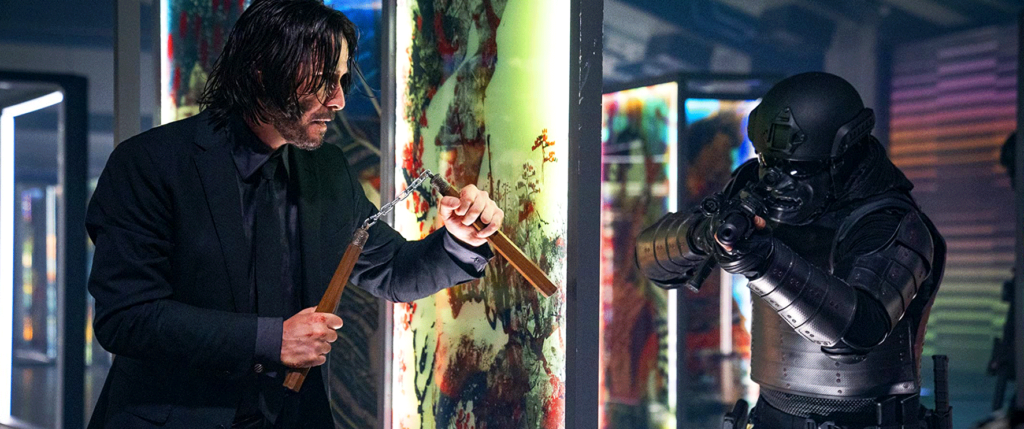 John Wick: Chapter 4 effectively turns up the intensity of the franchise and breaks off the knob. It takes its action sequences to new heights and balances it with more emotional threads and tethers than any of the previous films. It's brighter, it's faster, more colorful, and more lethal. While every installment of this series has been entertaining, Chapter 4 feels like it's tackling more than that. It truly brings the narrative to a new level.
John Wick: Chapter 4 hits theaters Friday, March 24th.
–
Brittney Wittmer considers herself a Professional Fangirl™. She is both an author and an editor for The Fan Room, focusing on fandom, film, television, and horror. Her greatest achievement to-date is binge-watching fourteen seasons of CW's Supernatural in 40 days to prepare for the final season.